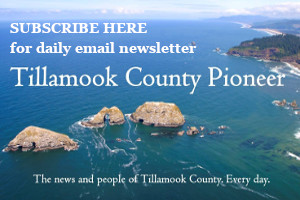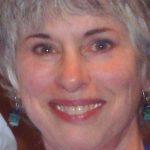 By Judith Yamada
Bread is an important staple food source today and was also significant in ancient societies. In 10,200 BC, neolithic people made the first bread using water and grains and fried it over a fire. Ancient Egyptians began leavening bread around 300 BC, and consumption boomed. With the domestication of wheat in western Asia, cultivation spread to Europe and North Africa, allowing people to become farmers. And the world over, we've all been enjoying baked, fried and steamed doughs of endless varieties ever since.  There's a lot of history attached to bread dough. Around 1610, bagels became very popular as gifts for new moms in Poland, and in 1724 bread riots broke out in France due to crop failure. Somebody's head was put on the block for that mess. And my favorite appliance, the toaster, was invented in 1928.
Bread (and all manner of doughs) are pure comfort food. The aroma of loaves, biscuits, buns and hand pies wafting through the air, is euphoric. And the taste of freshly baked bread is a joy. And bread with cheese? Why, that's another dimension entirely. Lots more could be shared about bread history, but on to the recipes. The results of these recipes are beautiful to look at and even better to eat. Enjoy!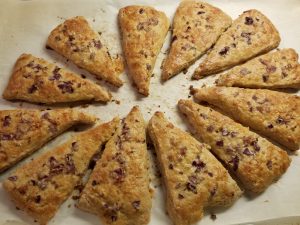 Savory Cheese & Red Onion Scones
My whole wheat lightened adaptation of Savory Cheddar-Sour Cream Scones – My Food and Family (a Kraft recipe) is wonderful partnered with hearty soups and delicious with eggs or smoked salmon and cream cheese. This tasty finger food also goes well with appetizers or a cheese board. We love them. Quick and easy, the recipe serves 10.
2 cups whole wheat pastry flour OR white whole wheat flour
1 teaspoon cream of tartar
½ teaspoon baking soda
¾ teaspoon kosher salt
¼ cup cold butter, cut into small pieces
2/3 – ¾ cup shredded sharp Cheddar
½ cup light sour cream
1/3 cup low fat milk
1 egg, beaten
2 Tablespoons finely grated Parmesan
2 Tablespoons finely chopped red onion
Preheat oven to 450 F. Line a large baking sheet with parchment paper. Set oven racks in bottom third and top third positions
In a medium bowl, combine flour, cream of tartar, baking soda and salt. Whisk well.
Cut the cold butter pieces into the dry mixture using your hands, a pastry blender or 2 knives until texture of mixture resembles peas and large crumbs.
In a small bowl or measuring cup, combine low fat sour cream and milk, stirring well.
Form a hollow in center of flour mixture. With a fork, stir milk/sour cream mixture into hollow to combine just until no obvious dry ingredients show.
Knead the shredded Cheddar into the dough by hand, turning dough over itself 2 or 3 times until layers have formed and cheese is disbursed. Don't over handle.
Transfer dough to parchment lined baking sheet. Press dough down evenly until it forms a 9" or 10" circle. Cut into 10 pie shaped pieces. Using a small spatula, gently lift/space the scones on the parchment paper so there's some room around each.
Brush the entire tops of scones with the beaten egg. Sprinkle tops with Parmesan and onion. Bake on lower rack in preheated oven about 10 minutes. If tops don't brown after 10 minutes, move to the higher rack the last 2 minutes of baking.
Adapted from original: My Food and Family.com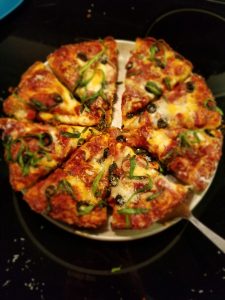 Crispy Cheesy Pan Pizza
Admittedly, I'm fussy about most food, but particularly about pizza. I went through a period of only making my own except when I was lucky enough to get a Neapolitan style, wood fire baked pizza at a couple of favorite places in the Portland area. My homemade pizza is okay, but just doesn't measure up to one of those charred, chewy pies from Apizza Scholl's or Pizzeria Sul Lago. Happily, I recently discovered this straightforward recipe from King Arthur Baking for Crispy Cheesy Pan Pizza | King Arthur Baking . It does take a lot of time, but little time is spent in prep. Most is spent allowing the dough to rest in the refrigerator. The dough is easy to work with, there's no kneading, it removes easily from the cast iron pan used for baking, and cuts easily. We layered small pieces of prosciutto and sliced black olives all over the top before baking and sprinkled the pizza with fresh basil chiffonade and fresh grated Parmesan after baking. The text to this recipe is long, and I didn't change it a bit, so the link is attached. Try it. So delicious!