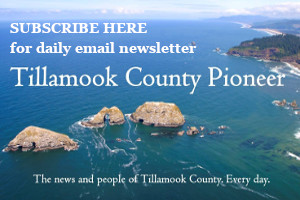 EDITOR'S NOTE: We hear that word a lot – "sustainable". But what does it really mean? According to the Cambridge English dictionary: "sustainable: 1. able to continue over a period of time: 2. causing little or no damage to the environment and therefore able to continue for a long time: 3. able to be maintained or continued."
You've probably heard the old saying "you are what you eat," right? Well, if you want to be more sustainable, a good place to start is in your own kitchen. Here are some simple suggestions to help factor in the environmental, economic and social impacts of the foods on your plate.

By Judith Yamada, The Kitchen Maven
WHEN POSSIBLE:
1. Learn about what's IN SEASON where you live, the closer the better. When shopping, look for signs showing "where" (business, farm, city, town, state, country) your produce, dairy and meat have originated. If they don't display this information – ASK. If they can't tell you, then go elsewhere to shop, or let management know your concerns.
2. Grow as much of the foods you love as you can. And shop from local farms or pick fruits at local orchards and fruit stands.
3. Buy seafood from local fishers instead of the supermarket. It supports your community and it tastes better.
4. Research farms that raise animals for food to make sure the animals are raised humanely with space to move about freely. Buy organic whenever possible, but know that large corporations claiming to raise foods organically may not typically have the same standards as small local enterprises. These standards include humane treatment of animals, proper food handling, and no growth hormones and artificial pesticides. Being able to look a farmer, rancher or processor in the eyes or speak with them can make all the difference regarding the food you buy.
5. Study recipes you can make with the food that's available fresh "this" season "within your view". Find this information online or through the local county extension service. Seasonal recipes are available on many websites and in magazines.
6. Look for Fair Trade and organic brands that are distributed close to home, and provide a living wage for workers.
7. Purchase, pick, or gather the fresh foods, you like, during that season, and freeze, dry or can for later. Freezing is the easiest and I've done them all.
8. Be easy on yourself. We're all busy, and can't always cook everything "fresh". So buy canned or frozen foods, simply processed. They have the similar nutritional values of fresh options. Use them with fresh ingredients.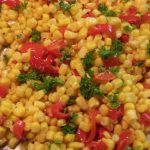 In the winter, I sometimes sauté diced red peppers and garden chives with canned organic corn. It's fresh tasting and colorful.
9. Become a member of a CSA (community supported agriculture) farming operation by purchasing a share from a local farm. In doing so, you purchase a portion of the season's bounty and support the farm's efforts. In return for your financial support, early in the season, the farmers plant and nurture an assortment of vegetables, herbs, sometimes fruit and flowers. From May to October, they harvest the produce at its peak of flavor. You pick it up, fresh and convenient!
EDITOR'S NOTE: Here is a list of the CSA's available in Tillamook County. https://www.tillamookcountypioneer.net/community-supported-agriculture-csa-opportunities-available-in-tillamook-county/REMEMBER:
10. Genetically modified foods will not display that information.
11. Wash all fruits, herbs and vegetables before consuming or cooking. I've discovered that many people don't.
12. Commercially grown produce has pesticides on the skin and in the fruit, but especially on the skin.
13. Food, organic or not, shipped distances, is stale when it gets to you; it's come a long way. In addition, the fuel used to transport the food has a dynamic and negative impact on our environment.
14. You can always go outside your immediate locale to find what you need, so look for foods grown, caught and produced in surrounding cities and states. Remember, the closer the better.
15. It's not always possible to go stomping from farm to orchard to fisher to canner. So look for grocery stores, farms and farmers' markets, in your area, that do it for you. They exist. Although, frankly, accessibility depends on where you live.
EDITOR'S NOTE: Here are links to local guides with more information about farms stands, farmers, CSA's and more:
Tillamook County Locally Grown Guide
North Coast Food Guide
16. And don't feel guilty about purchasing the many special foods, we all enjoy in our homes, from around the world. What would I do without coffee and chocolate? Don't even want to think about that.
Here's a seasonal recipe that's simple and delicious. It takes a bit of time, but the vegetable cooking can be done ahead of time, if desired. And the results are impressive, healthy and comforting.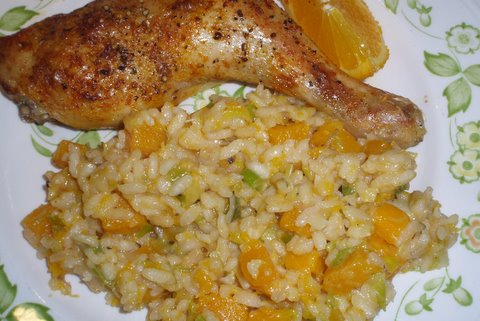 Winter Squash & Leek Risotto
3 cups cooked and peeled butternut squash*, cut in 1" cubes
2 medium sized leeks
4 Tablespoons extra virgin olive oil – divided
1 ½ cups Arborio rice
1 cup dry white wine
1 quart mushroom OR vegetable broth
¾ teaspoon Kosher salt
½ teaspoon freshly ground black pepper
¼ cup freshly shredded Parmesan cheese
Carefully wash the leeks. Cut off root ends and the dark green tops. Discard these and use only the white and lighter green parts of the leeks. Cut them in half lengthwise. Slice coarsely. Put 2 Tablespoons olive oil into a 12" saucepan. Heat the oil on medium heat just until you see it ripple. Add the leeks. Cook about 4 minutes, stirring often. Remove leek slices from pan.
Add 2 Tablespoons olive oil to the same pan. Again, heat the oil until it begins rippling; add the rice, coating it with oil and stirring often for 3 or 4 minutes. Slowly stir in the wine until most of it is absorbed.
In a 2-quart saucepan, heat all of the broth. With a ladle, add ½ cup of the broth, to the rice, at a time, stirring slowly but constantly until most is absorbed. Continue adding ½ cups of broth, and stirring until all the broth has been absorbed into the rice. It will take about 20 – 25 minutes to do this, so get ready to chill for a while. Add salt and pepper. Stir and taste for seasoning.
Add the cooked leeks and squash back to the rice. Stir to heat, for about 4 minutes. Stir in the cheese and enjoy.
Serves 4
*To cook the squash in the microwave:
Add ½ cup water to a round microwave safe cake pan or pie pan. Cut the squash into chunks about 5" square, and place flesh side down in pan. Cover loosely with waxed paper and microwave on high for 4 minutes. Check for doneness. Rotate pan and microwave an additional 3-5 minutes, as needed. Cool completely and remove rind with a sharp paring knife. Cut the squash into 1" cubes.
Original recipe by Kitchen Maven