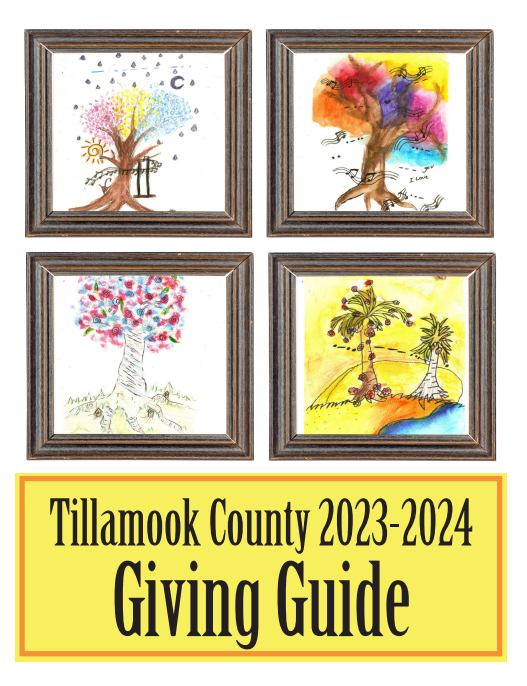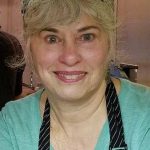 By Judith Yamada, Kitchen Maven
The definition of quiche is "unsweetened custard pie with a savory filling" and the definition of frittata is "unfolded omelet often containing chopped vegetables or meats", so they're similarities are obvious, focusing on delicious healthy eggs as the main ingredient. But these popular dishes are not quite the same. Quiche, thought to have originated in France, was purportedly first known in Germany, and the English were eating pies filled with egg custard long before the famous Quiche Lorraine recipe was attributed to the French. So savory egg pies have been around for at least a few hundred years. As for the frittata, it's a heavier dish with Italian origins, and is often prepared as a means for using up leftovers.
Having prepared both dishes many times, I never thought about the differences between them until a neighbor brought it to my attention. So I researched a number of recipes for both these eggy entrees. Although quiche is meant to be creamier (based on a large amount of cream, sour cream or milk used to make the custard) many frittata recipes also include dairy and result in a more custardy rather than omelet texture. And many cooks when preparing a quiche, with or without a crust, have faced a soggy mess after using too much liquid or forgetting to pre-cook their vegetables.
My experiments resulted in a creamy custardy sort of quiche-frittata morph. It's a perfect vehicle for your leftover leeks, corn, pork roast, spinach, sausage, zucchini or whatever is lurking in your kitchen and needs to be turned into a meal. No crust needed.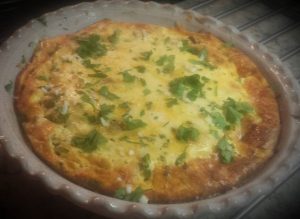 Savory Quichatta
(crustless custard omelet pie made your way)
Deep dish pie pan (9 ½ – 10 inches)
Preheated 350 degrees F. oven
Middle rack
2 to 3 cups assorted chopped vegetables (such as red onion, scallions, shallots, bell pepper, zucchini, broccoli, corn, asparagus, potatoes or whatever you have and enjoy)
3 tablespoons vegetable oil, olive oil or butter (or combination)
1scant cup chopped thoroughly cooked meat, optional (such as pork roast, bacon, sausage or smoked fish)
½ – ¾ cup fresh herbs, finely chopped (at least two types (such as thyme, parsley, chives, marjoram, dill, rosemary or whatever you have and enjoy)
¾ teaspoon salt, divided
½ teaspoon white pepper
¼ – ½ teaspoon dried crushed red pepper
5 large eggs
¼ cup milk
¾ cup sour cream
2 cups shredded cheese (such as Cheddar, Gruyere, Gouda, Feta, Cotija, Fontina, Pepper Jack or whatever you have and enjoy. Combine two types for more complex flavor.
1 Tablespoon butter to grease deep dish pie pan
Heat a 10-inch skillet with the oil or butter. Sauté the vegetables until just done. Add chopped herbs and ½ teaspoon salt (to draw moisture out of produce) and continue cooking a few minutes more until moisture from vegetables evaporates. Cool vegetable mixture. In a medium bowl, using a wire whisk, beat eggs and ¼ cup milk with ¼ teaspoon salt, white pepper and crushed red pepper until well mixed and frothy. Beat in the sour cream. Stir the cooked chopped meat (if using) and half the shredded cheese into the cooled vegetable mixture. Add the egg mixture. Stir. Butter the pie pan and pour all the egg mix into the pan. Top with remaining cheese. Tap on a hard surface to evenly distribute and break any air bubbles.
Bake 40 – 45 minutes in preheated oven. Don't open the oven until it's done. The quichatta should be dry looking on the surface and browned around the edges. When done, remove from oven and place on a rack to cool. Don't cut for at least 15 to 20 minutes. May be served warm or at room temperature. This makes a delicious breakfast, lunch or dinner and is even better the next day. Serves 6.