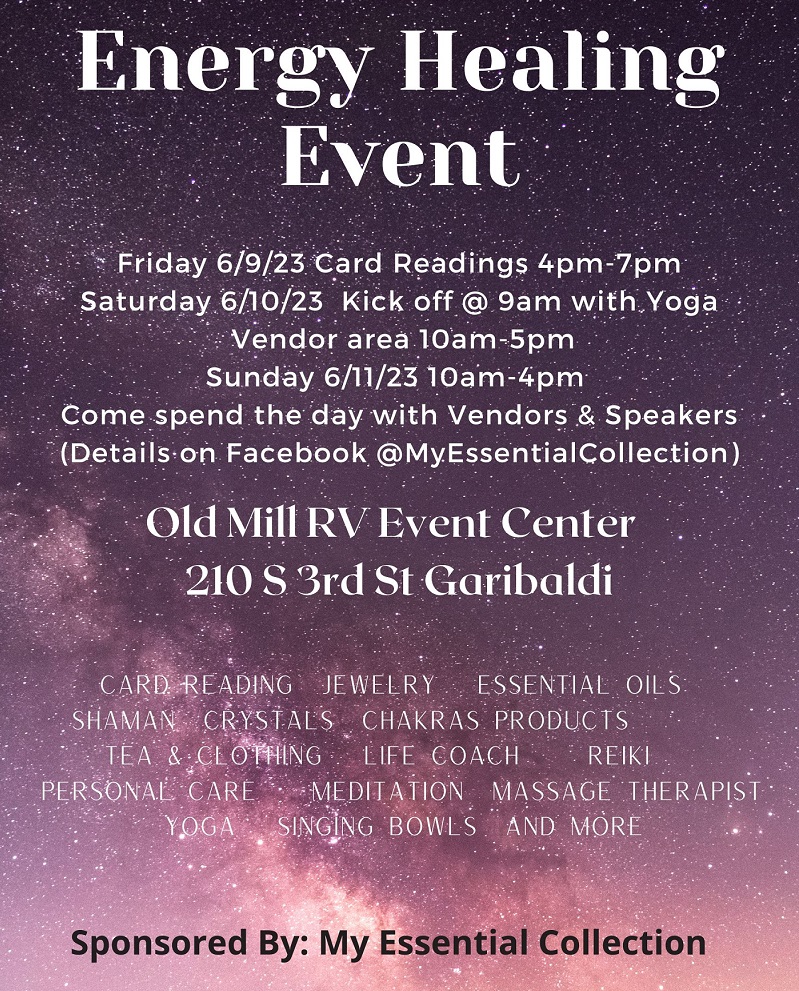 By Judith Yamada, Kitchen Maven
Just because one has been seriously cooking and baking for 40 some years doesn't mean they stop learning or trying new flavors, techniques or even recipes. When I'm stumped about what to prepare for guests or even how to put together a weeknight supper with what's on hand, I head to the Internet. Although I don't typically use exact recipes written by other cooks, I often use a few as inspiration for a recipe I'll adapt, change, improvise and call my own. Once you've cooked without recipes for a long time, this is a pretty straightforward affair, except of course when it comes to baking. Baking is chemistry and another matter entirely.
Anyway, I digress. My husband opened a can of Campbell's Bean and Bacon soup for his lunch last week, and even though I won't eat Campbell's Bean and Bacon soup, it did smell really good. So I researched several recipes and decided to prepare my own bean and bacon soup with all fresh veggies, dry beans and uncured bacon.
While I was perusing recipes online, Simply Recipes.com popped up. Someone visiting the site recommended the recipe for Cheddar Puffs as an accompaniment for soup. Basically, it's a recipe for savory cream puffs without cream filling. Many years ago when I cooked at Alfie's Wayside Inn, in Dundee Oregon, I used to prepare cream puffs and éclairs regularly. It had been years since I whipped up a batch, but since gougeres (the real name for the cheese puffs) are practically the same thing, I gave them a try. Both my hearty soup (which hubby loved) and the gougeres turned out so delicious and comforting and went together beautifully. I hope you enjoy them both!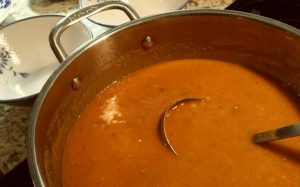 Bean & Bacon Soup
This is my personal version of a delicious comforting soup – with a vegan option.
1 pound dry great northern beans
8 ounces uncured bacon, cut into ½ -inch pieces*
1 large sweet onion, diced
1 – 2 large carrots, peeled and diced
2 ribs celery, halved lengthwise and sliced
1 – 2 tablespoons garlic paste
1 ounce dry sherry or wine vinegar
3 ounces tomato paste
1 teaspoon dry thyme
2 bay leaves
2 teaspoons kosher salt, or to taste
1-teaspoon sweet smoked paprika
¼ teaspoon freshly ground black pepper
8 cups low sodium chicken broth, water, or vegetable broth (or a combination)
Rinse, sort and soak beans according to package directions or pick through the beans, rinse them and put them in a soup pot, covering with water two inches above the beans. Soak them overnight. No time to soak overnight? Put them in the pot with water, bring to a rolling boil, cover, remove from heat and let soak for 1 hour. After soaking, drain.
Sauté the bacon pieces on medium high heat, in a heavy bottomed soup pot, stirring as needed, to evenly crisp them and render the fat. Lower the heat to medium. Remove the crisp bacon from the pot; set aside. Leave ¼ cup of rendered bacon fat in the pot, remove any excess. Sauté the vegetables in the rendered fat, starting with the onion. Stir as needed. Once it's translucent and partially cooked, add the carrots and celery. Sauté another few minutes, scraping the bottom of the pan for bacon drippings. Add all the remaining ingredients, including the beans. Raise the heat to bring the soup to a boil, then immediately lower heat to maintain a simmer. Simmer the soup 2 to 3 hours, stirring occasionally. Stir the reserved bacon back into the soup. Serves 8
*To prepare this as a Smoky Bean Vegan soup: skip the bacon, sauté the vegetables in ¼ cup olive oil or vegetable oil, add about ½ cup diced mild chilies, increase the smoked paprika to 1 tablespoon, add 1-teaspoon ground cumin. Otherwise, prepare as above.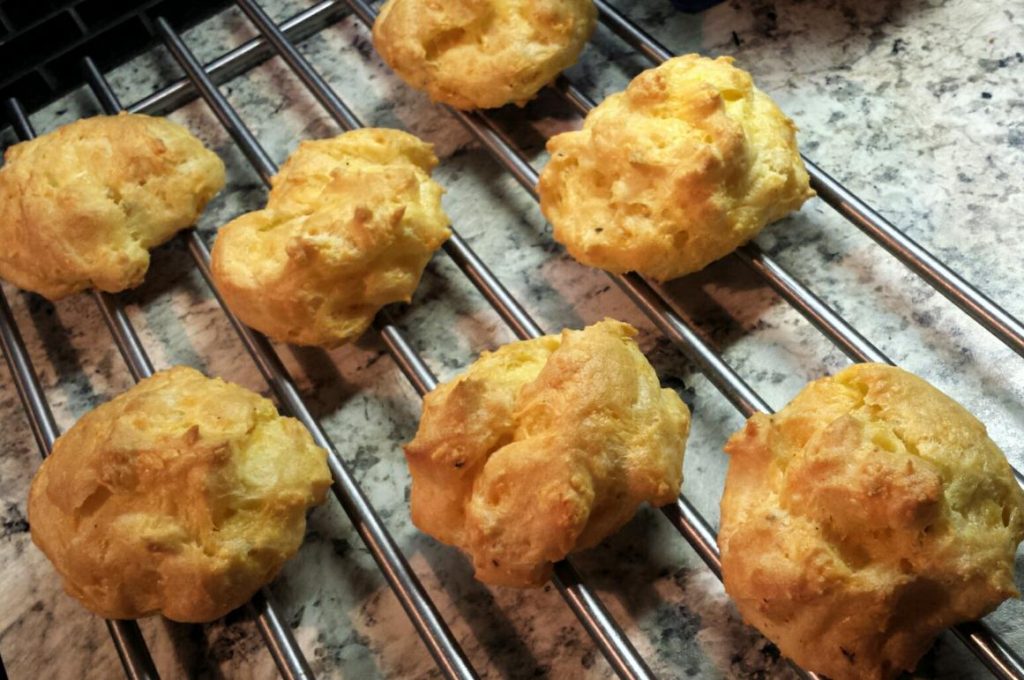 Gougeres (aka Cheddar Puffs)
Try these simple cheese puffs from Simply Recipes.com You will like them.
One stick butter (1/2 cup)
1-cup water (8 ounces)
1/2-teaspoon sea salt
1 cup all purpose flour
4 large eggs, at room temperature at least 30 minutes
1 cup (4 ounces) freshly shredded extra sharp Cheddar cheese
2 teaspoons fresh chives, finely snipped OR ¾ teaspoon dry thyme leaves
Freshly ground pepper
Line one large or two small cookie sheets/baking pans with parchment. Set aside.
Preheat oven for 425 degrees F.
In a 3-quart saucepan, boil the butter, water and salt. Add in the flour, all at once, and keep stirring quickly while cooking for 2 minutes. Remove the pan from the heat to a rack and stir quickly and evenly, with a wooden spoon, for 2 minutes to bring down the heat. You want to evenly lower the temperature of the dough, while still having it warm, before adding the eggs. Otherwise, you'll scramble the eggs when they hit the heat. Add one egg at a time, stirring constantly with a wooden spoon until each egg is fully incorporated into the dough. Then add the next egg and stir like crazy again. Do the same with each egg, stirring well and the dough will look creamy and yellow. Add the cheese, chives or thyme and black pepper. Stir well to distribute ingredients evenly. Leaving at least 1 inch of space between each gourgere, place rounded Tablespoons of dough on the prepared pan(s). Bake 10 minutes then, without opening oven, lower heat to 350 degrees F, and bake an additional 15-20 minutes. Remove from oven. Prick each gourgere with a toothpick or cake tester. Eat, as is, while still slightly warm. Store leftovers in a zip lock bag. These reheat well. To reheat, set oven to 350 degrees F. Place gourgeres on baking pan with a piece of foil sitting loosely over the tops. Heat for 10-15 minutes. Remove from oven and enjoy again. Consume these within a couple of days. If made a bit smaller, these are perfect finger food for a happy hour party. Just reduce the end cooking time by a couple of minutes.
For more great recipes please follow the Kitchen Maven on Facebook, and head to the site below,
Elise Bauer at Simply Recipes: