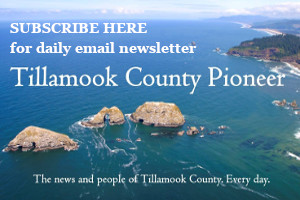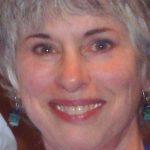 By Judith Yamada, The Kitchen Maven
As the family cook in our home for many decades, I've hosted many holiday family get togethers, including overnighters with air mattresses, futons and sleeping bags from wall to wall. It's all good.
What's not particularly good is a sleepy-eyed attempt to pull together a fabulous wake up meal on a busy (and maybe crowded) holiday morning. It's a bit hard to be jolly when your doing cook work in the kitchen and you'd much prefer lounging around, with your morning cup of Joe or cocoa, relaxing with rest of your crew. These savory make ahead entrees will give you the morning (or evening) free to practice being jolly. If you like, add a side of fresh fruit salad or crispy sausage and it's time to Ho Ho Ho!
Gardeners' Strata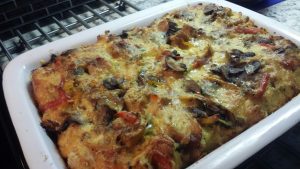 You can use whatever veggies you have on hand. If you have no peppers, use broccoli. No mushrooms? Try diced zucchini. No dill weed. Try dried oregano, tarragon or thyme.
Butter for the baking dish
3 Tablespoons extra virgin olive oil
3 cups (about 1 pound) mushrooms, sliced
1 ½ cups red onion or scallion, chopped
2 cups red and yellow or orange sweet bell peppers, tops and seeds removed and cut in 2" julienne strips.
5-6 cups large (1 ½ to 2-inch) stale or lightly toasted bread cubes
1 to 2 cups sharp Cheddar Cheese OR Gruyere Cheese, OR Swiss Cheese, shredded
8 large free-range eggs
2 cups low fat milk (any kind, unflavored and unsweetened)
1 Tablespoon Dijon style mustard
1 Tablespoon chopped pickled capers OR chopped pickle OR relish
1 teaspoon finely grated lemon zest, yellow only
¾ teaspoon sea salt
¾ teaspoon lemon pepper
¾ teaspoon dried dill weed
¾ teaspoon Worcestershire Sauce
¼ teaspoon crushed red pepper OR 1 teaspoon hot sauce
Butter a 9" x 13" shallow baking dish. Set aside. Heat olive oil in a 10" skillet on medium heat. When oil is hot, add mushrooms, cooking for 5 minutes. Add onion, stir, cover and cook for 5 minutes; stir and add peppers. Cover and cook 5 more minutes or until all the vegetables are quite wilted and softened. Uncover and allow most moisture to cook off. Remove pan from heat. Allow vegetables to cool for a few minutes. Evenly place half the bread cubes in the prepared baking dish. Top with half the cooked vegetables, then half the cheese. Repeat. In a large bowl, beat the eggs. Add the milk, mustard, capers (if using), lemon zest, sea salt, lemon pepper, dill weed, Worcestershire, and crushed red pepper. Whisk the eggs, milk and seasoning together, well. Pour the egg mixture over the strata layers; being sure all is evenly moistened. Press the strata down with a spatula, to moisten all layers. Cover baking dish with foil. Refrigerate until the next day.
Remove strata from refrigerator 30 minutes before baking. Remove foil. Preheat oven to 350 F. Bake, uncovered, on middle rack of oven for 50 to 60 minutes. When done, remove from oven and allow strata to settle for around ten minutes prior to cutting. Serves 8.
Reheats nicely in the same baking dish, covered with foil, at 300 F. for around 20 minutes.
Original: Kitchen Maven
Overnight Baked Eggs Bruschetta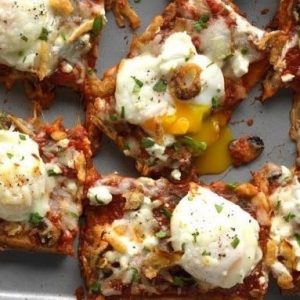 Like pizza for breakfast? Prefer eggs? This original recipe (featured in the 2011 Taste of Home Holiday & Celebrations cookbook) is an overnight marriage of the two. Put this breakfast version of pizza together to refrigerate overnight, and you'll have time to do other things while it bakes in the morning. Or prep it in the morning for a quick supper after a busy day.
Cooking spray
11 to 12 ounces prepared unbaked pizza dough (from grocery refrigerator shelf or homemade)
2 Tablespoons olive oil, divided
1 ½ cups shredded mozzarella cheese, divided
8 ounces, thinly sliced, Cremini mushrooms OR white mushrooms
1 Tablespoon butter
¾ teaspoon dried marjoram or oregano
¾ teaspoon garlic powder
½ teaspoon kosher salt
½ teaspoon freshly ground pepper
1 cup prepared pizza sauce, unheated
6 large eggs, poached
2 Tablespoons freshly grated Parmesan cheese
¾ cup crispy canned French-fried onions
18 fresh basil leaves or 6 sprigs of Italian parsley OR 2 Tablespoons snipped chives for garnish (optional)
Preheat oven to 375 F. Spray a 9" x 9" or 11" x 7" baking dish with cooking spray. Set aside. Line pan with prepared pizza dough, pressing to spread it evenly in the dish. Brush the dough with 1 Tablespoon olive oil. Sprinkle the unbaked dough evenly with ¾ cup mozzarella cheese. Bake 14 to 18 minutes in preheated oven. When done, crust will be golden. Cool on rack. Turn off oven.
Spray a large skillet with cooking spray, place on medium heat. Add 1 Tablespoon EACH olive oil and butter to the pan. When the oil is hot, add the mushrooms, marjoram or oregano, garlic powder, salt and pepper. Stir. Sauté the mushrooms, stirring often, until they've lost most of their moisture and started browning. Remove pan from the heat. Evenly spread half the mushroom mixture over the baked cheese crust. Pour the pizza sauce into the skillet with the remaining mushrooms.
Place the prepared, drained, poached eggs evenly, on top of the mushrooms, on the crust. Place one Tablespoon of the mushroom sauce over each egg, being careful not to break the yolks. Spread remaining sauce around the eggs. Sprinkle remaining mozzarella evenly overall, followed by the Parmesan. Slightly crumble and sprinkle the canned French-fried onions overall. Tightly cover the bruschetta and refrigerate eight hours or overnight.
When ready to bake, remove bruschetta from refrigerator and uncover. Place the baking dish on the center rack of a cold oven. Set oven to 375 F. When oven temperature reaches 375 degrees, set timer for 20 minutes for softer eggs and 25 minutes for firmer eggs. Cool baked bruschetta on cooling rack for 5 minutes. Cut cooled bruschetta into 6 pieces. Transfer to plates using a wide spatula. Garnish as desired.
Original: Kitchen Maven