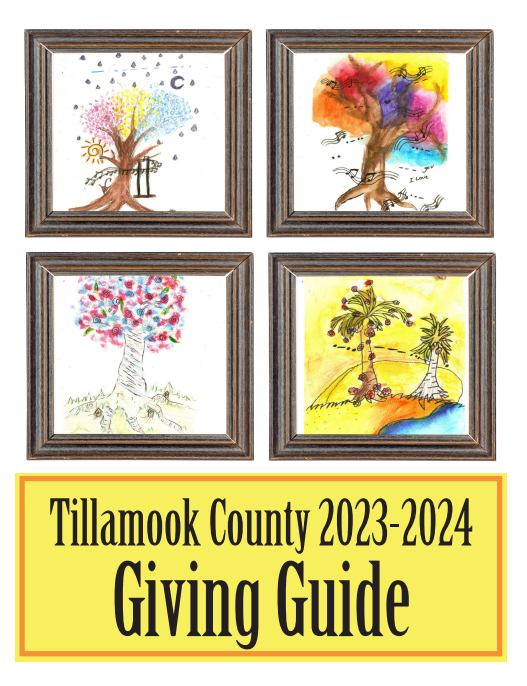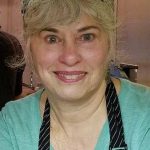 By Judith Yamada, The Kitchen Maven
Happy New Year to all of you this Rosh Hashanah for Hebrew year 5783. The holiday begins at sundown on Sunday, September 25, 2022, and ends at nightfall on Tuesday September 27. May your New Year be sweet and filled with inspiration and potential.
Like all holidays, Rosh Hashanah is celebrated symbolically in many ways through events, activities and, of course, food. The New Year is a time for looking forward and honoring the cycle of life. Round challah breads are a traditional celebration food on the Rosh Hashanah table representing that cycle. Honey, apples, and carrots symbolize sweetness in the coming year. And we all could do with more of that.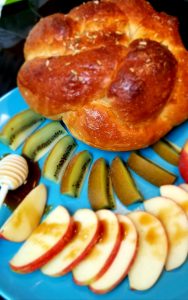 A newer tradition is the serving of a fruit that is just coming into season, has never been sampled by participants before or is popular in another culture. The succulent seasonal fruit represents a fresh start and new possibilities. So, as the wheel turns each cycle, Rosh Hashanah marks our opportunity to make a fresh start and reinvent ourselves in the coming year. What an opportunity!
For your New Year celebration or any day, you'd like a bit of sweetness in your life, my original recipe for Egg Challah with apple & honey follows. For my savory sweet finalist entry from the National Festival of Breads, several years ago, check out Red Apple & Golden Cheddar Challah. It's made with Tillamook Sharp Cheddar. And my delicious raw local honey is from Nehalem River Ranch in the foothills of the Oregon coastal range.
New Year Egg Challah with Apple & Honey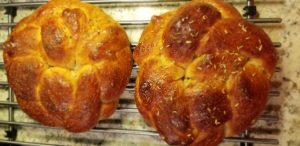 4 ½ cups all-purpose flour
1 Tablespoon instant/rapid rise dry yeast
2 teaspoon kosher salt
6 Tablespoons vegetable oil
4 Tablespoons local honey
2 large eggs + 1 extra yolk (at room temperature)
1 small apple including skin, coarsely grated (shredded), about ½ cup packed
¾ cup lukewarm water (100 degrees F.)
1 large egg white, beaten until foamy
Oil for rising.
Poppyseeds or fennel seeds, optional
Combine flour, yeast, and salt in bowl of stand mixer with dough hook. Mix on low speed about 40 seconds. In a separate bowl, combine oil, honey, 2 eggs + 1 yolk and shredded apple. Stir. The stir in the lukewarm water. Add wet ingredients to dry and mix on medium low speed about 5 minutes or until a sticky dough forms and attaches to the bottom of the bowl. The dough will be very moist; that's good. Flour your hands and scrape the wet sticky dough to a lightly floured board. Flour your hands and the top of the dough, knead for just a minute and form into a smooth ball.
Lightly oil a large bowl for rising. Turn the top of the dough ball into the oil then turn it back up. Cover bowl tightly with plastic. Put in a warm place to rise about 2-3 hours. When the dough has risen to twice its size, turn onto a floured board and deflate.
Cut the dough in half. Put one half aside. Cut the other half into 3 parts. Place the three pieces on a sheet of parchment. Roll each piece of dough between your hands until they are all about the same size (at least 12 inches long) then braid them together tightly, pinching the ends under. Bring both ends together into a round, attaching so it doesn't come apart. Place braided loaf, on parchment, onto a large baking sheet. Repeat the process with the second dough half, placing the loaves as far apart as possible on the large sheet pan. Lightly cover the loaves with plastic wrap. Allow to rise again, in a warm place, for 1-2 hours.
When dough is ready, preheat oven to 350 F. Set oven rack to middle position. Brush loaves completely with the beaten egg white and sprinkle with seeds, if desired. Bake in preheated oven about 20-25 minutes or until an instant thermometer inserted in loaf shows a temperature of at least 190 F. Remove loaves from oven and allow to cool completely. Serve with butter and honey if desired. 12 servings.
One loaf may be bagged in a large freezer bag and saved for another occasion. Defrost and eat within 2 months.
For 100 more tasty, nutritious, and comforting recipes, you can own a copy of my new cookbook, "Thrifty Comfort Cooking for Challenging Times" through Amazon.com or Barnes & Noble.com. Remember, 100% of author royalties go directly to the Oregon Food Bank to help those impacted by food insecurity. As a mother who experienced food insecurity, when my son was just a toddler, writing this cookbook was on my bucket list and a joy to know it might help others in that same untenable situation.  Bon Appetit!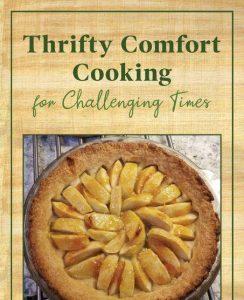 Amazon.com : thrifty comfort cooking for challenging times
Thrifty Comfort Cooking for Challenging Times by Judith Berman-Yamada, Paperback | Barnes & Noble® (barnesandnoble.com)