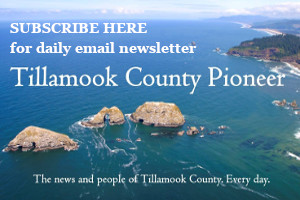 By Judith Yamada, The Kitchen Maven
Today, the potato is the fourth most important crop worldwide behind wheat, corn, and rice. But in the 18th century the tuber was a novelty that was avoided by some and found startling to others.
This sustaining vegetable was the first domesticated in the country of Peru between 8,000 and 5,000 B.C.E. And cultivation of potatoes may go as far back as 10,000 years. In 1536 Spanish Conquistadors who conquered Peru, so enjoyed the flavor of potatoes that they shipped them back to Europe. And we mustn't forget Sir Walter Raleigh's introduction of the spud to Ireland in 1589.
Marie Antoinette was so taken by the five lobed purple potato flower that she wore them in her hair. Her husband Louis the XVI used them in his buttonhole, thus starting a trend and political movement encouraging farmers to plant this new and unusual vegetable and French diners to eat them.
Historian William H. McNeill argued that "By feeding rapidly growing populations, (the potato) permitted a handful of European nations to assert dominion over most of the world between 1750 and 1950." In other words, he believed that, as populations grew, potatoes fueled the rise of the west. Sociologist James Lang wrote in his book, Notes of a Potato Watcher, that "no crop produced more per acre, demanded less cultivation and stored as easily as the potato".
Although we grow only a handful of varieties in the USA, there are historically thousands of potato varieties.  Typically planted between April and June in Oregon, potatoes are available year-round even when it's difficult to find many other crops in the produce aisles. They contain almost every important vitamin and nutrient except vitamins A and D. And If you leave the skin on them and add some dairy, the spud becomes a balanced meal. They are inexpensive, easy to prepare (in so many ways) and delicious baked, roasted, fried, grilled, steamed, and mashed.
Hope you enjoy the potato recipes included in this post. Find 100 more easy, thrifty, recipes in my cookbook, "Thrifty Comfort Cooking for Challenging Times".
"Thrifty Comfort Cooking for Challenging Times is a perfect wedding, graduation, birthday, and Valentine gift that aspiring cooks will appreciate. 100% of author royalties from all retail sales of this cookbook are donated directly to the Oregon Food Bank. So, your gift to a friend can also help neighbors experiencing food insecurity. Available online:
Amazon.com: Thrifty Comfort Cooking for Challenging Times:
Thrifty Comfort Cooking for Challenging Times | Barnes & Noble® (barnesandnoble.com)
Bon Appetit!
https://www.facebook.com/Creativepenandpantry/
Potato & Green Chile Stew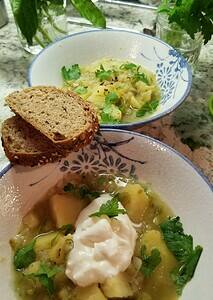 Economical, quick and satisfying, this stew, adapted from the recipe by Deborah Madison (Food 52), is perfect the day it's made and even better the next day. Eat with a dollop of sour cream or plain Greek yogurt on top or prepare with water (instead of chicken broth), pass on the sour cream, and this is a satisfying vegan meal.
2 Tablespoons vegetable oil
1 medium large onion, diced
2 – 7-ounce cans mild fire roasted diced green chilies
1 teaspoon ground coriander
½ teaspoon ground cumin
2-3 medium garlic cloves, minced
2 large russet potatoes or 1½ – 2 pounds smaller potatoes, peeled and chopped into 2-inch chunks
¾ -1 teaspoon salt
¼ teaspoon pepper
2-3 cups chicken broth OR water
Sour cream OR plain Greek yogurt to finish, optional
Chopped fresh cilantro OR parsley, optional
Heat the oil in a wide pot or Dutch oven. Add the onion and cook over medium-low heat, stirring frequently until softened, about 5 minutes. Add the diced chilies, coriander, cumin, garlic and potatoes along with salt and pepper; stir. Cook together for 3 minutes.
Add the broth or water. Bring to a boil, and then lower heat to a gentle but constant simmer. Cover and cook until the potatoes are completely soft, about 25 minutes.
Taste for seasoning. If desired, mash some of the potatoes to give the dish a creamy background texture.
Pour stew into bowls; add a dollop of sour cream, and the chopped cilantro, if using.
Serves 4
Adapted from original: Deborah Madison/Food 52
Thrifty Winter Potato Leek Soup
This thrifty one pot winter soup is on the table in no time and serves a group.  One cup of shredded sharp Cheddar may be added with the milk, if desired.
4-5 medium potatoes
2 medium leeks OR 2 cups peeled chopped onion
3-6 garlic cloves
¼ cup chopped fresh chives OR 1 Tablespoon dried chives
2 Tablespoons olive oil
6 cups chicken broth OR vegetable broth OR 4 cups broth + 2 cups water
Salt and pepper to taste
¼ – ½ teaspoon ground or freshly grated nutmeg, optional
½ cup half & half OR evaporated milk OR unsweetened plant-based milk
Wash and peel potatoes and cut into quarters. Remove roots from leeks and cut tops off the tops, leaving only white and light green parts for soup. Split them lengthwise and wash well between the layers. Cut in ½ inch slices. Peel garlic. Add the potatoes, leeks, garlic, chives, olive oil and broth to a soup pot. Bring to a boil. Reduce heat and simmer 25-35 minutes or until potatoes and leeks are tender.
With a slotted spoon, transfer the solids to a blender and puree until smooth* Return the puree to the broth in the soup pot. Reduce heat. Season the soup with salt and pepper to taste. Add nutmeg, if using. Stir the half & half or milk into the soup, just to warm. Don't allow it to boil. Serves 8.
*The soup may be left in the pot and pureed with an immersion blender, if desired.
Original: Kitchen Maven
Mashed Potato Biscuits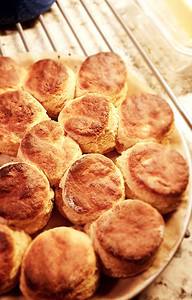 2 ½ cups flour (all-purpose, whole-wheat pastry or half of each)
2 Tablespoons baking powder
1 teaspoon salt
2 Tablespoons granulated sugar
¼ cup cold butter (or plant butter), cut into small chunks
1 ½ cups leftover prepared mashed potatoes
1 large egg, beaten
1/3 cup cold water
1/3 cup milk
2 Tablespoons melted butter or milk, optional
Preheat oven to 425 degrees F. Line baking pan with parchment or foil.
Combine flour(s), baking powder, salt and sugar. Whisk well. Cut the cold butter chunks into the dry ingredients with a pastry blender or clean hands until the mixture has the texture about the size of small peas. Combine water and milk with flour mixture. Using a fork, incorporate dry with wet into a loose dough.
Turn dough out to a floured surface and, with floured hands, knead the dough over itself about 8 times until it holds together well. Press the dough down to a ¾ inch thickness. Cut into disks with a floured biscuit cutter (about 3-inch size). Place biscuits on prepared baking sheet. If using, brush with melted butter or milk.
Bake 15-20 minutes. Bottoms of biscuits will be golden when ready. Makes about 16 biscuits. Serve with butter, jam, honey, gravy.