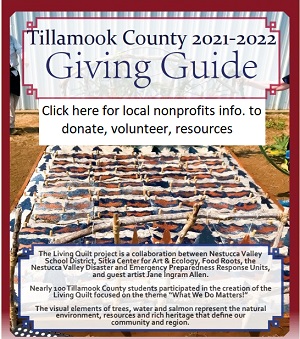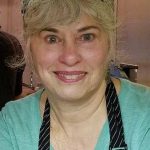 By Judith Yamada, The Kitchen Maven
Whether you're a football enthusiast or not, there's a good chance you'll watch this year's Super Bowl on February 13th. And if you're anything like I am (when it comes to sports viewing) you'll feel the impulse to pick a favorite team and cheer for them to go all the way – even if, like me, you're rooting for the Bengals or Rams simply by default. My team of the Black and Gold, did not make the cut this year, and so it goes. I'll be cheering for the Bengals because they've never won a super bowl and I want the underdog to win. Plus, I like their helmets.
If you simply can't stand football but find yourself in the heart of a sports family celebration, televisions blaring from several rooms, team colors dispersed all through the house, laughter and cheering surround sound, try to think of the game as an extension of the holiday season. You'll have a much better day if you celebrate with those living room fans instead of yawning in the corner. And, of course, a good way to celebrate is with game day food. But don't forget that the 14th is Valentine's Day, and a perfect excuse to bake a chocolate treat while the game fans are making merry in front of the screen.
Yay, team!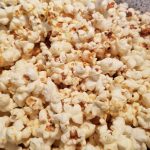 Best Stovetop Popcorn
Preparing popcorn from scratch, is healthier (no weird, saturated fats and flavors), tastier and less expensive too. Before discovering this recipe, my popcorn was often just partly popped or burnt. This is a winner.
2 tablespoons neutral vegetable oil or olive oil
½ cup popcorn kernels, separating 3 kernels
Salt, to taste
Nutritional yeast, Tamari or butter, optional
In a large heavy-bottomed saucepan over medium stove top heat, combine the oil and 3 popcorn kernels. Cover the pot and wait, a few minutes, for the kernels to pop. While waiting, place a large serving bowl close by so it's convenient when needed.
Once the kernels pop, turn off the heat, remove the pot to a rack and pour in the remaining popcorn kernels. Cover the pot again and give it a bit of a shake to evenly distribute the kernels in the pot. Let the pot rest for 1 minute to keep the oil from getting too hot before the kernels are ready to pop.
Turn the heat back on to medium, put the pot back on the burner and continue cooking the popcorn, shaking the pot occasionally to cook all the kernels and prevent burning. Once the kernels start popping, carefully, crack open the lid so steam can escape. When the sound of corn popping slows down to a pop every few seconds, remove the pot from the heat.
Remove the lid and pour the popcorn into the large serving bowl. Sprinkle with salt, to taste, melted butter, nutritional yeast, Tamari or other preferred toppings. Toss the seasoning into the popcorn and serve. Yield: 10 cups
Original: Cookie and Kate https://cookieandkate.com/perfect-stovetop-popcorn-recipe/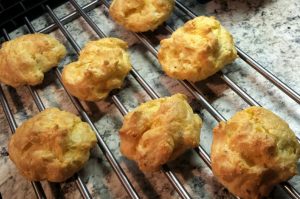 Savory Cheese Puffs (Gougeres)
This is a savory version of cream puffs. And the ingredients couldn't be more basic. Once you get the knack of stirring in those eggs, it comes together like a charm. Try them with soup or salad or alongside a glass of wine or iced tea. We like them reheated the next day, served with a poached egg popped inside. Anyone who likes cheese will love these. And they're great game day snacks.
½ cup butter
1 cup water
½ teaspoon salt
1 cup all-purpose flour OR whole wheat pastry flour
4 large eggs
1 cup (4 ounces) grated Gruyere cheese OR sharp Cheddar cheese
2 teaspoons chopped fresh thyme OR snipped fresh chives
Fresh ground black pepper
Preheat oven to 425 F.
Butter a 12 x 15-inch baking sheet (not spray) or line the baking sheet with parchment.
Bring the butter, water and salt, to a boil, in a medium saucepan over high heat.
Remove pan from heat.
Add the flour all at once and stir rapidly with a wooden spoon.
The mixture will form a ball that will pull away from the sides of the pan.
Add the eggs, one at a time, stirring well after each addition, until the eggs are incorporated into the dough and the dough is no longer slippery.
Stir in the grated cheese, the thyme and a few grinds of pepper.
Place rounded Tablespoons of dough, evenly spaced, on buttered or parchment lined pan, at least one inch apart.
Bake for 10 minutes. Lower heat to 350 F. and bake for another 15-20 minutes until puffed and lightly golden. Makes about 2 dozen puffs. Leftovers may be crisped up by reheating in a 300 F. oven for 10 minutes.
Adapted from original: Simply Recipes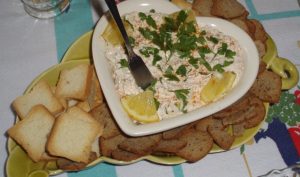 Zesty Crab Dip
Serve a bowl of this zesty dip on a plate surrounded with crackers. The recipe makes enough for a party. If you have leftovers, toss in with some hot pasta the following day.
12 ounces light cream cheese, softened
3 Tablespoons prepared horseradish
3 Tablespoons finely chopped fresh parsley, divided
1 ½ Tablespoons coarse mustard
2 teaspoons hot pepper sauce
1 teaspoon fresh lemon juice
¾ cup light sour cream
1½ cups lump Dungeness crabmeat
Beat the softened cheese with a rotary beater or whisk for 2 minutes or until creamy. Add horseradish, 2 Tablespoons parsley, mustard, hot pepper sauce and lemon juice, and beat 1 additional minute. With a flexible spatula, fold in the light sour cream. Carefully fold in crabmeat. Scrape dip into a 3-4 cup serving bowl. Sprinkle top with remaining parsley. Refrigerate at least 30 minutes after preparing. Store in refrigerator and use within two days.
Original: Kitchen Maven
Zucchini Tahini Brownies
These little vegan treats are easy to prepare, chocolatey sweet and high in fiber and healthy zucchini. The recipe offers each baker ingredient alternatives based on availability, diet and personal taste.
Dry mixture:
1 cup + 2 Tablespoons whole-wheat pastry flour OR white whole-wheat flour OR gluten free flour mix
½ cup unsweetened baking cocoa powder
1 teaspoon baking soda
1 teaspoon espresso instant powder, optional
Wet mixture:
1 ½ cups shredded zucchini – including skin, but no seeds
1/3 cup coconut sugar OR granulated sugar
1/3 cup real maple syrup OR agaves nectar
½ teaspoon salt
2 teaspoons real vanilla extract
1 Tablespoon apple cider vinegar OR white vinegar
¼ cup tahini sesame butter – well stirred and creamy OR creamy almond butter, OR creamy sunflower seed butter OR creamy peanut butter
Topping:
Sesame seeds or chopped nuts, optional
Preheat oven to 350 degrees F. Spray a 9-inch square pan (or a 7" x 11" rectangular pan) with pan spray. Line the bottom of pan with parchment, overlapping two sides to form wings for lifting brownies from pan after baking and cooling.
Combine all dry mixture ingredients in a large bowl; whisk well
Combine all wet mixture ingredients in a medium bowl; whisk well
Pour the wet mixture over the dry mixture.  Stir with a wooden spoon or silicone spatula, incorporating, evenly, just until no dry ingredients show. But don't over mix. Pour batter into prepared pan. Tap on countertop to even out and break excess air bubbles. Lightly sprinkle the top of the batter, evenly with sesame seeds or chopped nuts, if using.
Bake on center rack of preheated oven 20 – 25 minutes, depending on your oven. When done, a cake tester or toothpick inserted into brownies will be a little moist, with a few crumbs, but not wet.
Allow brownies to cool on a rack, in the pan, until entirely cool. Lift the cooled brownies from pan, onto a cutting board, using the parchment wings. Cut evenly into 16 to 20 servings. These improve overnight and should be stored, in a covered container, in the refrigerator. Serve as is or frost with ganache or a chocolate glaze.
Original: Kitchen Maven