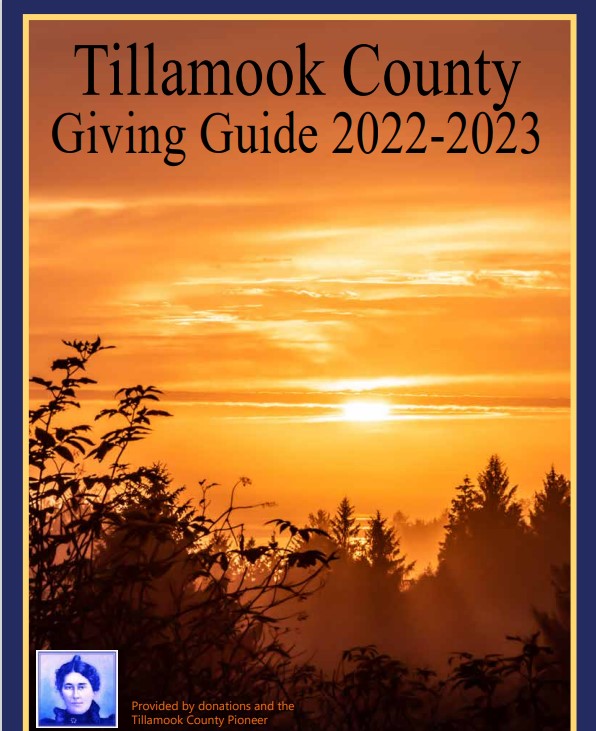 By Judith Yamada, The Kitchen Maven
Like a lot of you, I cooked and baked from before Thanksgiving into the New Year. Compared to the usual array of sweets, snacks, breads and hearty entrees I've prepared during past seasonal feasts, this was slow and easy. Not too many guests were here at any given time, there were no overnighters, and we spent part of our time away from our primary digs, just tooling around Portland and partying with family and friends.
Over the years, there have been big family parties for which I've prepared eight types of cookies, pies, roasts, lasagnas, brunches, appetizers, mojitos and you name it. I feel for you cooks out there who drove yourself ragged trying to be the perfect gastronomic grandpa, dinner diva or the second coming of Jacques Pepin , my idol, during the holidays.
But, even with my limited culinary ministrations this year, and even though I begrudgingly avoided taking photos of practically everything I cooked, there is still a slide show of lots of food I dished up during the festivities.
With the first hand knowledge of how demanding holiday cooking and entertaining can be, I've included a few simple but outstanding recipes to try next time you're weary from all that fabulous cooking and want some delicious, homey and simple options to lean on. And they're perfect for guests or everyday cooking.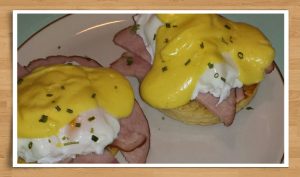 Microwave Hollandaise Sauce For Two
This is the easiest and most forgiving Hollandaise I've ever encountered. Use fresh organic eggs for a beautiful bright yellow sauce.
2 large egg yolks
Pinch ground cayenne pepper
1 Tablespoon fresh lemon juice
¼ cup salted butter, melted
Whisk egg yolks in a 1-quart measuring cup. Whisk in the cayenne and lemon juice. Drizzle in the melted butter while continuing to whisk. Microwave on high 15 seconds. Whisk. If sauce is not thickened and homogenous, place back in microwave and heat another 10 seconds. Whisk again. Serve. 2-3 servings.
Mum's Easy Scalloped Potatoes
Lots of cooks make a white sauce for their scalloped potatoes; not so here. My mum made it this way and I'll stick by it, because it's easy and delicious. Plus, this recipe makes it's own sauce.
Preheat oven to 400 degrees F.
2 Tablespoons all purpose flour
¼ teaspoon each, salt and pepper
3 medium potatoes, thinly sliced
2 Tablespoons salted butter
¼ cup onion, finely chopped
¾ cup milk
Paprika
Grease a 2-quart oven safe casserole. Combine the flour, salt and pepper. Place 1/3 of the potato slices on the bottom of casserole dish. Sprinkle with 1/3 of the flour mixture, 1/3 finely chopped onion and dot with 1/3 of the butter. Repeat Twice. Stream the milk over the mixture. Sprinkle with paprika. Cover the casserole with foil. Bake 30 minutes. Remove foil and bake an additional 15 minutes. Serve. Serves 4- 6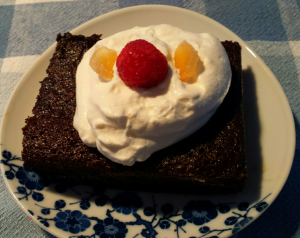 Drunken Deschutes Gingerbread Cake
This is so delicious and moist. I think it was originally published by Deschutes Brewery, but the recipe is no longer available online; I've searched and searched. Lucky I had a copy. Unlike so many other gingerbread recipes, it never comes out dry. Just be sure and separate ingredients into the respective bowls (as directed in recipe) and it will come together like a breeze. It's the best gingerbread I've ever tasted and is even better the second day. I like it with very lightly sweetened whipped cream. But some may prefer a more decadent lemon sauce, vanilla ice cream or even a smear of soft butter. Be sure your eggs are at room temperature (out of refrigerator 30 minutes), and your butter for baking is nice and soft. Do not melt the butter.
Preheat oven to 350 F. Grease a 9" x 13" cake pan and line with parchment.
1 stick unsalted butter, softened at room temperature.
¾ cup granulated sugar
¼ cup dark brown sugar
3 large eggs
2 cups whole-wheat pastry flour
2 Tablespoons candied ginger, finely minced
1 ½ teaspoons baking soda
1-teaspoon ground cinnamon
1-teaspoon ground ginger
½ teaspoon ground cloves
½ teaspoon salt
¼ teaspoon nutmeg, freshly grated (or ground)
1 cup unsulphured molasses
1 cup Deschutes Black Butte Porter (or other comparable porter)
In a medium bowl of an electric mixer, cream together the butter and sugars until fluffy. Add eggs, one at a time, beating after each addition. In a separate bowl, combine the flour, baking soda, cinnamon, and both gingers, cloves, salt and nutmeg. Whisk well. In a pint sized measuring cup, combine the molasses and porter. Alternate adding the dry ingredients and the molasses mixture to the beaten butter mixture, just incorporating each addition. Begin and end with the dry ingredients. Scrape the mixing bowl a few times between mixing and additions. Pour batter into prepared pan. Bake on middle rack for 30-35 minutes. Test center of cake for doneness after 25 to 30 minutes. Don't overbake. Cool at least 15 minutes before slicing and serving. 8-10 servings.
COMING SOON:
Potato and Green Chili Stew and Stuffed Manicotti made with Crepes