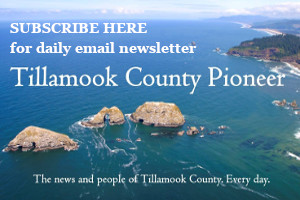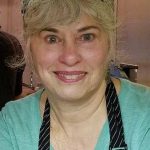 by Judi Yamada, www.kitchenmaven.org
The first known use of the idiom "Staff Of Life" was in 1638; it meant "a staple of diet", and the meaning hasn't changed. Obtained from Western man's most abundant foods: seeds, grasses and grains, bread has been a valued sustenance since before recorded time. Grains include wheat and rice, but legumes such as beans and lentils are also classed as grains.
The first breads we know of were unleavened buns of Celtic origin, but the Romans eventually improved the quality and quantity of available bread as well as bread making equipment. Whiter breads (some even whitened with chalk) were saved for the aristocracy, while coarser bran and whole grained breads were allocated for the common folk.
Since wheat was not always readily available, Saxon successors used barley, rye and a crop called maslin to extend the wheat as a precaution in case of a wheat crop failure. This is something many farmers still do today to assure a saleable crop. Community supported agriculture (CSA) is based on the principal that the customers pay for crops ahead of time, based on a variety of plantings. If one crop fails, the customers get those that have thrived. It saves the day for the farmers and the recipients have a meal either way.
Nowadays, many people avoid bread due to low carbohydrate diets and an intolerance of wheat products. Over the last several years gluten free and high protein breads have improved greatly and become a lot more available – an example of supply and demand changing market availability and even quality.
Well, it's bread baking season again. This gal loves bread and bread baking, and often sleuths around for new recipes containing high protein and high fiber ingredients and delicious gluten free options. The two recipes in this post are ones I found and slightly adapted from other blogs, and they are simple and fabulous. In fact, they're so easy that I baked the lemon zucchini bread while the rosemary garlic bread was still rising, then raised the oven temperature and popped it in. They were both ready for last night's dinner, but we saved the zucchini bread for breakfast. So good!  Hope you enjoy them both. The original website links follow each recipe.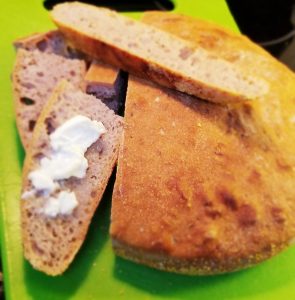 No Knead Rosemary Garlic Bread (one loaf)
3 cups all-purpose flour OR 2 cups bread flour & 1 cup whole wheat pastry flour
3 large garlic cloves, minced
1 tablespoon finely chopped fresh rosemary, or more, to taste
1 1/4 teaspoons kosher salt
3/4 teaspoon freshly ground black pepper
1/2 teaspoon instant yeast
1 1/2 cups water, at tepid room temperature
Oil or pan spray
2 tablespoons cornmeal
In a large bowl, combine flour, garlic, rosemary, salt, pepper and yeast.
Using a wooden spoon or your hand, add water and mix until a wet, sticky dough forms, about 30 seconds.
Cover bowl tightly with plastic wrap and let stand at room temperature until surface is dotted with bubbles, about 18 to 24 hours.
Lightly oil a 10-inch cast iron skillet or coat with nonstick spray or brush with oil; sprinkle with cornmeal.
Working on a lightly floured surface, gently shape dough into a round.
Place dough into the prepared skillet. Cover with a clean dishtowel and let stand at room temperature until dough has doubled in size and does not readily spring back when poked with a finger, about 2 hours.
Preheat oven to 450 degrees F. Place into oven and bake until golden brown, about 30-40 minutes.
Serve warm.
No Knead Rosemary Bread Recipe – Damn Delicious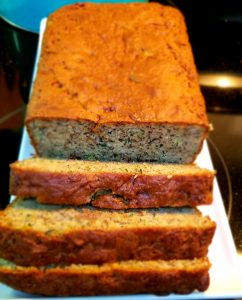 GLUTEN FREE LEMON ZUCCHINI BREAD (one loaf)
3 eggs large
1 large lemon all yellow zest and all juice
1/2 cup real maple syrup or honey
1 tsp baking powder
1 tsp baking soda
1 tsp pure vanilla extract
1/2 tsp kosher salt
1 cup shredded zucchini with skin, packed, not squeezed
3 1/3 cups almond flour (blanched, natural or a combination)
Preheat oven to 350 degrees F, line 9 x 5 loaf pan with unbleached parchment paper and spray with cooking spray. Set aside.
In a large mixing bowl, add eggs, lemon zest and juice (zest first before squeezing juice), maple syrup, baking powder, baking soda, vanilla extract, and salt. Whisk until combined. Mixture will be foamy.
Immediately add zucchini and almond flour (when measuring, don't forget to level the top of measuring cup with a knife). Mix gently with spatula to combine.
Pour batter into previously prepared loaf pan and bake for 45-50 minutes or until the toothpick inserted in the middle comes out clean.
Remove bread from the oven and transfer to a cooling rack to cool off for 10 minutes. Holding onto the flaps of parchment paper remove bread from a loaf pan and let it cool completely before slicing with sharp serrated knife.
Notes
Store:Store covered in a cool dry place for up to 5 days.
Freeze:In an airtight container for up to 3 months.
Almond flour must be used for this recipe to be successful.
Feel free to add 1 tbsp of poppy seeds or 1 tbsp culinary lavender to the batter, if desired.
Healthy Lemon Zucchini Bread – iFoodReal.com
For 100 more tasty, nutritious, and comforting recipes, you can own a copy of my new cookbook, "Thrifty Comfort Cooking for Challenging Times" through Amazon.com or Barnes & Noble.com. Remember, 100% of author royalties go directly to the Oregon Food Bank to help those impacted by food insecurity. As a mother who experienced food insecurity, when my son was just a toddler, writing this cookbook was on my bucket list and a joy to know it might help others in that same untenable situation.  Bon Appetit!
Amazon.com : thrifty comfort cooking for challenging times
Thrifty Comfort Cooking for Challenging Times by Judith Berman-Yamada, Paperback | Barnes & Noble® (barnesandnoble.com)