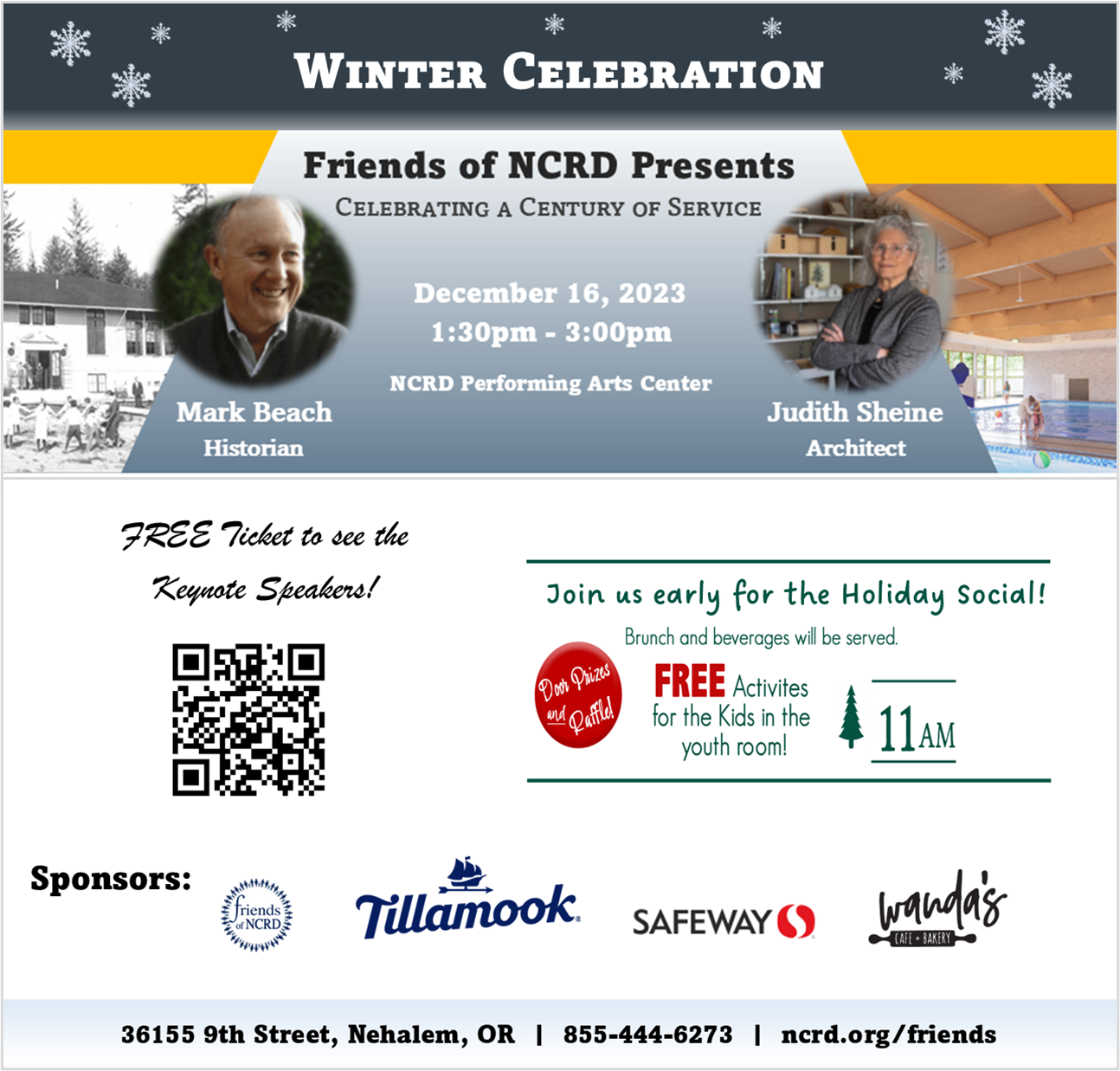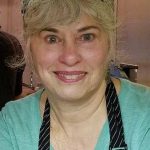 By Judith Yamada, The Kitchen Maven
When we lived in Corvallis, Oregon and had season tickets to OSU Beaver football games, we loved to tailgate or at least contribute to the tailgate feast, chat, and enjoy a couple of celebratory drinks with like-minded college football enthusiasts. It was a neighborhood party of trucks, tents, and grills, with hoots and hollers galore and radios blaring in a huge parking lot outside of the stadium seating.  Spirits at these parties are high and laughter is plentiful.
But, according to National Geographic, some present-day purists link the first tailgating parties to the U.S. Civil War's First Battle of Bull Run in 1861 in Prince William County Virginia, just north of Manassas and thirty miles from Washington D.C… Voyeurs gathered for the skirmish to picnic, cheer on their team, Union or Confederate, and party from a distance.  We all know how, after years of perilous fighting, that confrontation ended.
Whatever competition or confrontation initiated the activity of tailgating, it's now associated with camaraderie, sportsmanship, and great food. And, yes, food is absolutely essential to the entire day. It needs to be easily transported or simply prepared at the game. Foods that aren't too messy are a plus, and grills are a must have for the rest, as is a cooler for the cold drinks and insulated thermoses for cocoa, coffee, or hot buttered rum.  So put on your colors, root for your team, eat and be merry. GO TEAM!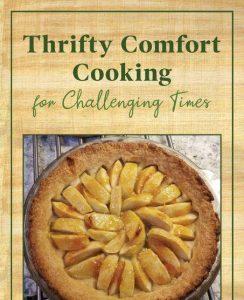 ALL OF THESE RECIPES AND 100 MORE ARE IN my cookbook, "Thrifty Comfort Cooking for Challenging Times". All author royalties from retail sale of this book (on Amazon and Barnes & Noble) go directly to the Oregon Food Bank.
Amazon.com: Thrifty Comfort Cooking for Challenging Times: 9780578310763: Berman-Yamada, Judith, Berman-Yamada, Judith: Books
Thrifty Comfort Cooking for Challenging Times by Judith Berman-Yamada, Paperback | Barnes & Noble® (barnesandnoble.com)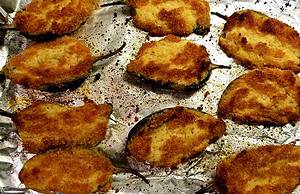 Roasted Jalapeno Poppers
Of course, you can buy something like these in your grocery freezer case, but these homemade baked poppers, using fresh jalapenos, are less expensive, fresher, and easy to prepare. Should you find yourself with several fresh jalapenos, this is the recipe to try. If heading to a tailgate party, prepare these at home, and reheat on a pan over a grill, tented loosely with foil.
Preheat oven to 400 degrees F / line a small baking pan or cookie sheet with foil, sprayed with non-stick spray. Set oven rack to center top position.
6 large jalapeno peppers, slit in half lengthwise, keeping stems intact
3 ounces light cream cheese, softened
½ cup shredded sharp Cheddar
¼ teaspoon salt
¼ teaspoon dry oregano
¼ teaspoon garlic powder
1 Tablespoon nutritional yeast (optional)
3-4 Tablespoons Panko crumbs, OR other dry breadcrumbs, divided
½ cup mayonnaise OR light mayonnaise
Chili powder
Remove and discard all seeds from inside the peppers. It's a good idea to use disposable gloves for this purpose so you don't hurt yourself later.  Combine cheeses, nutritional yeast, if using, 1 Tablespoon breadcrumbs, salt, oregano, and garlic powder. Mix well with a wooden spoon. Form filling into 12 equal portions and press to fit inside each half pepper. Roll top of popper, containing filling, into mayonnaise. Sprinkle with remaining breadcrumbs and with a bit of chili powder.  Place peppers on prepared pan and on upper middle shelf of oven. Bake 20 – 25 minutes, rotating pan halfway through.
12 poppers/4-6 servings
Original: Kitchen Maven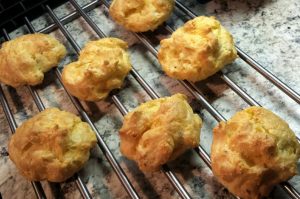 Cheddar Cheese Puffs (Gougeres)
Posted these before but can't resist sharing them again because they're so good. The ingredients couldn't be more basic. Once you get the knack of stirring in those eggs, it comes together like a charm. Try them with soup or salad or alongside a glass of wine or iced tea. We like them reheated the next day, served with a poached egg popped inside. Anyone who likes cheese will love these. They're great game day snacks, and good at room temperature, plain or with dips or fillings.
½ cup butter
1 cup water
½ teaspoon salt
1 cup all-purpose flour OR whole wheat pastry flour
4 large eggs
1 cup (4 ounces) grated sharp Cheddar cheese
2 teaspoons chopped fresh thyme OR snipped fresh chives
Fresh ground black pepper
Preheat oven to 425 F.
Butter a 12 x 15-inch baking sheet (not spray) or line the baking sheet with parchment.
Bring the butter, water and salt, to a boil, in a medium saucepan over high heat.
Remove pan from heat.
Add the flour all at once and stir rapidly with a wooden spoon.
The mixture will form a ball that will pull away from the sides of the pan.
Add the eggs, one at a time, stirring well after each addition, until the eggs are incorporated into the dough and the dough is no longer slippery.
Stir in the grated cheese, the thyme, and a few grinds of pepper.
Place rounded Tablespoons of dough, evenly spaced, on buttered or parchment lined pan, at least one inch apart.
Bake for 10 minutes. Lower heat to 350 F. and bake for another 15-20 minutes until puffed and lightly golden. Makes about 2 dozen puffs. Leftovers may be crisped up by reheating in a 300 F. oven for 10 minutes, but they're also good at room temperature.
Adapted from original: Simply Recipes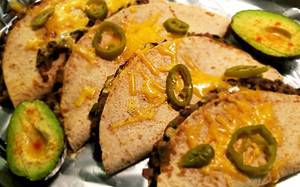 Vegetarian Quesadillas
Love these, for the economy, ease of preparation and taste. This quick, easy kid friendly lunch or supper uses both fresh and pantry ingredients. If taking to a party, prepare these at home, stack in a baking pan and reheat on a grill or low oven, loosely tented with foil. For easy handling, cut in half before serving. Serve extras on the side.
1 can, diced, fire roasted mild green chilies, drained (about 7 ounces)
Seasoning to taste: chili powder, garlic/onion powder, smoked paprika, dry oregano, etc.
4 – whole wheat OR high protein OR gluten free soft tortillas (8-inch)
1- 1-½ cups shredded Cheddar, pepper jack, or other desired cheese
1 can black beans OR pinto beans, drained and well rinsed (14-16 ounces)
2 Tablespoons tomato paste
Optional Extras: pickled jalapenos, chopped onion, chopped tomatoes, sliced avocado, lime wedges, fresh cilantro, salsa, shredded lettuce, shredded cabbage, sour cream, roasted red pepper slices, pumpkin seeds, canned corn, or whatever you like and have available.
In a 2-quart saucepan, combine the chilies, beans, tomato paste and seasonings. Using a potato masher, partly mash the ingredients together so it's lumpy but somewhat creamy. Heat the filling on medium low just until the flavors are well combined, and the filling is as warm as desired.
Heat oven to 200 degrees F. Put a cookie sheet on the middle rack
On a cast iron griddle or flat heavy pan, heat the tortillas, one at a time, on medium heat. Bottom will heat and crisp slightly with dark heat spots, after 2 0r 3 minutes. Turn the tortilla over. Reduce heat as needed. Spread ¼ of the bean/chili filling over half the tortilla. Top with ¼ of the shredded cheese. Fold the empty half of the tortilla over the filling. Press down. Carefully flip it over on the griddle. Heat for a minute or two, until done to your liking and slightly crisp. Lay the quesadilla on the heated pan in the oven. Repeat the process with the remaining tortillas, filling, and cheese.
Remove the quesadillas from the oven, and cut each quesadilla in half, if desired; serve them with the extras. Makes 4 folded quesadillas.
Original: Kitchen Maven