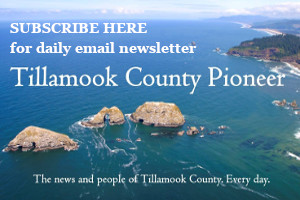 Those of us who live in Oregon House District 32 have an opportunity in the November 8 Midterm Election to send a young, devoted public servant to Salem: Logan Laity.
I have known Logan since he was a student at Neah-Kah-Nie High School. I was immediately impressed by his enthusiastic willingness to take on responsibilities with the Tillamook County Democrats (TillCoDems). For four years, he served as organization Secretary and also Chair of the Infrastructure Committee, keeping the organizational meetings and records on track and technology functioning and up to date.
While a full-time student at TBCC, Logan served as President of the TBCC Student Association. He regularly travelled to Salem to lobby on behalf of TBCC students and successfully lobbied for the Student Access Act, which brought new funds to our local schools, especially for traditionally underserved students. Logan fought for the funding for the Career and Technical Education Program, which helps train students for secure, well-paying employment opportunities. Logan's desire to aid in student success moved him to work with a group to create a food and hygiene pantry for students in need of such support. Education continues to be a high priority for Logan.
After graduating from TBCC with an Associate Degree in Business, he enrolled at Portland State University to pursue and graduate from studies in Urban & Public Affairs, Civic Leadership, Political Science, and Public Service. While pursuing his Bachelor Degree, Logan formed a business, took on a community service director position, and continued his work with the TillCoDems.
Laity Consulting is Logan's small business. The business provides technical support for community seniors and local non-profits such as the Emergency Volunteers of Nehalem Bay. He recruits volunteers to help First Responders and helps organize emergency preparedness events.
Logan is currently on the board of directors of the Tillamook Urban Renewal Agency, which manages public funds to support development and community investment.
As you can see, Logan's educational, business, and volunteer goals and activities are always focused on serving his community. This is what we need in Salem … an energetic, dedicated public leader and servant who will be committed to the well-being of his constituents. I know and trust Logan and will enthusiastically vote for him for Oregon Representative, House District 32. Please join me in sending a young, capable voice to Salem.
Mark Cavatorta
Hebo, OR