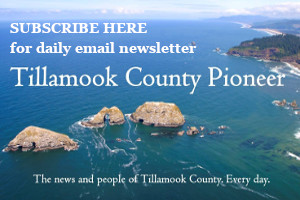 Pack a picnic and join friends and supporters of North Coast Land Conservancy at Circle Creek Conservation Center in Seaside on Thursday, Aug. 24, for the 2017 Summer Picnic at the Barn. The first summer picnic was held last year to commemorate the conservancy's 30th anniversary; it was such a success that staff and volunteers decided to make it an annual event. If you've never been to Circle Creek, it's a great opportunity to get acquainted with the forest, wetlands, and trails here that are open to the public. No admission fee; everyone is welcome.
Guided walks on the trails at Circle Creek will begin at 4 p.m. Bring chairs or a blanket to relax on the lawn outside the big barn and listen to live music beginning at 5 p.m., while a silent auction with lodging, wine, fine art and other offerings is held inside the barn. Bring a pie or other dessert for the dessert table. The picnic will wrap up around 7 p.m. Circle Creek Conservation Center is at the end of Rippet Road in Seaside; look for it on the west side of U.S 101, 0.7 mile north of the junction with U.S. 26.
North Coast Land Conservancy has been working since 1986 to conserve and connect the landscape of the Oregon Coast from the Columbia River to northern Lincoln County by acquiring or otherwise managing lands for their habitat value. NCLC has completed more fee acquisitions in Oregon than any other local land trust, ranking it alongside The Nature Conservancy and The Trust for Public Lands for statewide conservation impact.