This is an older article that was first published in 2011 and Vivi Tallman no longer has her Herbal business. I love this article so much and these cookies are so divine I am re-submitting this article as a "best of" one. I love to make these cookies every year at this time and serve them with fresh strawberries. They are truly magical! Thank you Vivi! DZ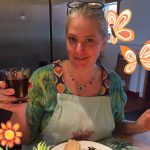 By Dana Zia, The Golightly Gourmet
"I truly love lavender. The scent is like bird song — it lifts the spirit." Vivi Tallman
I was at an art opening a few weeks back and had the great honor of meeting Lavender Shortbread. She was setting there on the dessert table, dressed up in her butter colored, sparkling sugar outfit filled with lavender blossoms. I was enchanted by her sweet aroma and decided to introduce myself. It was love at first bite.
The flavors were subtle and relaxing, different than what we normally expect from a cookie. Different but utterly refreshing and addictive. I tried another, then another, they got better with each cookie. We were on to something special here. The inevitable question came, "Who made these?" Vivi Tallman was identified as the baker. Of course, it all made perfect sense.
Vivi Tallman is a local herbalist and creator of "Tallwoman Tonics," a line of medicinal herb products from salves to teas. The lavender blossoms used in the shortbread were, of course, harvested by her from a local garden. Vivi and I needed to have a conversation as I saw more meetings with lavender shortbread in my future.
She was more than happy to share her lavender shortbread recipe with me. "I am always interested in ways to cook with flowers and medicinal herbs." Tallman said. This is of particularly interest to her after a recent trip to India. She continued, "In India, you're not taking your medicinal herbs in a pill, you getting it from you food." Tallman was inspired by this idea and set out to find more ways to cook with herbs.
The lavender shortbread recipe had been an idea that she blossomed into reality. "I truly love lavender. The scent is like bird song; it lifts the spirit." Tallman shared with me, "It is a remarkable herb that is fairly easy to grow here like most Mediterranean herbs"
"The essential oil of lavender is one of the few oils that can be applied undiluted to the temples to ease a headache or on a burn to magically prevent swelling or blistering." Tallman informed, "I infuse the flowers in olive oil and include them in my Soothing Skin Salve."
"All the herbs in these cookies are so wonderfully medicinal." She continued, "they have powerful anti-bacterial qualities that can help with many aliments including the common cold and in digestion." I, for one, am glad to know that a spoonful of sugar makes the medicine go down. Lavender shortbread is my new favorite medicine.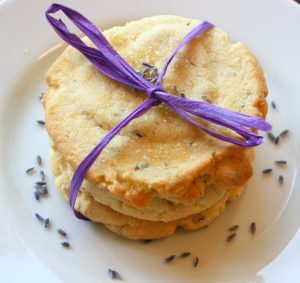 Tallwoman's Lavender Shortbread
Vivi adapted this recipe from the cookbook, "Cook's Illustrated; The New Best Recipe." I added the lemon zest but you may omit that. For the pictures I rolled the dough into balls and flattened them with the bottom of a drinking glass. You can get culinary lavender flowers from Wild or online.
1 3/4 cups unbleached all purpose organic flour
1/4 c. sweet rice flour
The zest of one organic lemon
1-2 T lavender flowers
2/3 cup superfine sugar (Vivi used a food processor and ground regular sugar.)
1/4 t salt
2 sticks of cold unsalted butter.
With oven rack in middle position, heat oven to 425 degrees. Using an electric mixer, mix flours, lavender flowers and all but 1 T of sugar (for sprinkling) and salt at low speed until combined, about 5 seconds. Cut the butter into 1/2 inch cubes and toss with 1/4 cup of the flour mixture and then add this all to the flour mixture. Mix at low speed until the dough is pale yellow and resembles damp crumbs, about 4 minutes. (Depending on the humidity it might clump, which is okay.)
Remove the bowl from mixer and toss the mixture lightly with your fingers to fluff it; rub any remaining butter bits into the flour mixture with your fingertips. Pour it into a lightly buttered 9 x 12 glass baking dish and pat into the dish.
Reduce the oven to 300 and bake for 20 minutes. Remove from oven and score with a sharp knife, sprinkle with the remaining sugar and return to oven. Bake until pale golden, about 25-35 minutes longer. Let cool for about an hour then remove from the baking dish and place on a wire rack to cool, at least 3 hours or overnight. Serve with fresh fruit (particularly strawberries) or just by themselves. You'll love being introduced to Lavender Shortbread!