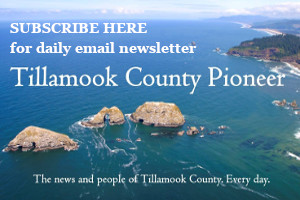 The Oregon Coast is one of the most iconic places on earth. Those who live here know and appreciate this truth, whether recently settled here or born and raised in Tillamook County, you can't help but feel a sense of gratitude when traveling along Highway 101 during a sunset, or when attending wonderfully odd yet fun events such as the County Fair and Garibaldi Days. We take pride in our shared communities and the rich history of how it all came to be.
That is what the Oregon Coast Scenic Railroad (OCSR) is all about. Offering unique experiences that spark the curiosity of visitors that ponder on what it must have been like in the 1920's when people from the valley would take the train on daily fishing trips or longer excursions to the coast. The pitch of the 100 year old steam locomotive's whistle is a sound you will hear nowhere else. Steam engines are rare and OCSR operates on a rail line that has unprecedented beauty. The OCSR's ridership was 30,000 in 2017—bringing roughly $6,000,000.00 to the county. A trail alongside will undoubtedly benefit this exceptional place we call our home, a destination equal to no other.
We appreciate the gestures of collaboration from the Port of Tillamook Bay (POTB) Commissioner, Jack Mulder and General Manager, Michele Bradley in their recent public address. The OCSR desires nothing less than a cooperative partnership in not only preserving our regional history, but broadening the recreational opportunities. Unification in the case of these three organizations working within the same land requires transparency and alliance. We are currently negotiating our lease with the POTB as we have requested an extension of time so we may expand our Garibaldi Station. We see no reason why the STIA lease and OCSR lease should not be negotiated with transparency, if the POTB and STIA are in fact planning on supporting the train excursions and building rails-with-trails. Cooperation is of the utmost importance to the communities of Tillamook County and our responsibility to them.
There is no federal or legal requirement that the property owner give a trail commission complete control over a railbanked line. Substantial investments depends on a level of certainty of future success, however investors do not require outright control and sole discretion to feel comfortable with lending. Solutions that allow STIA enough assurance to qualify for loans and grants while not stripping the POTB of their rights to land they own, and use agreements they are responsible for, can absolutely be accomplished.
The OCSR suggests both leases include sections which ensure the survivability and support of each other and lease negotiations take place with representatives from all three organizations in the same room, at the same time. We feel it's this type of response that would assuage our collective anxiety about the wording within the current lease agreement.
We at OCSR aim to make this our collective goal.
The excursion train and future trail have much to offer the communities of Tillamook County in tandem. Let's work together
and build a trail -— a rail-with-trail.
-Jessica Jung, General Manager, Oregon Coast Scenic Railroad