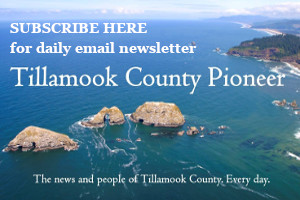 Background as I understand it:  The Nehalem Bay Health District entered into a contract with the North County Food Bank to sell them a piece of property they own at the Rinehart Clinic/Nehalem Valley Care Center complex.  The North County Food bank is currently housed in a building on that property that the NBHD plans to demolish at some point due to the condition of the building.  The North County Food Bank in good faith has been preparing for construction there for 5 years.  The board of the Food Bank and others in the community have volunteered their time, effort, money and professional services to plan for construction of the new building.  At a meeting last Thursday, Jan 13, the board of the Nehalem Bay Health District voted to renege on this contract to sell the property to the North County Food Bank.
What is so important to board members of NBHD that you were willing to renege on this contract?
Why did you pick a day to make this decision that you knew that a key player from the Food Bank was undergoing surgery and couldn't attend?
Would you consider reconsidering this decision?
What is going to happen to the Food Bank?
Are the residents of North County going to lose another vital and beloved institution?
What has changed with your Strategic Plan to allow you to make this decision?
From the NBHD Strategic Plan Adopted 4-2-19 (full strategic plan can be found here:  https://nehalembayhd.org/wp-content/uploads/2019/04/NBHD-Strategic-Plan-Adopted-4-2-19-V2.pdf)
From the Executive Summary (highlight is mine)
The decision to launch a strategic planning effort was due, in part, to a culmination of decisions and events. These included a newly constituted District Board, a decision to evaluate and possibly close and demolish the Annex Building due its deteriorating condition, an agreement to house the North County Food Bank on the District property in the short and long term, and the pending maintenance needs of the Nehalem Valley Care Center and Rinehart Clinic.
NBHD vision statement:
We envision a future where the Nehalem Bay Health District is the heart of the community and where all residents live a happy, high-quality, and healthy life.
My comments:  many of our residents rely on the North County Food Bank to live a healthy life.
From the Strengths, Weaknesses, Opportunities, Threats section of the Strategic Plan:
Opportunity:  Extend and increase collaboration with existing partners.
I am very disheartened at this news.  Especially now, we need to be taking care of each other and solving problems and conflicts with an intention to form the best win-win solutions possible.
Sincerely,
Barbara McLaughlin
Nehalem, OR 97131