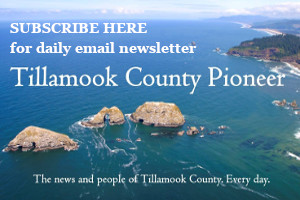 I strongly support the rule change proposed by OPRD to ban driving year-round on the Tierra Del Mar residential area beach and the area adjacent to Sitka Sedge State Natural Area. It should be just common sense that we would not allow driving on the beach, especially in the proposed area from the mouth of Sand Lake estuary south to the northern border of Cape Kiwanda State Natural Area. This area encompasses two distinct recreation areas, both should be wildlife/visitor/family friendly, not vehicle friendly.
The first is the area at the north edge of the proposed ban area, adjacent to Sitka Sedge State Natural Area. Sitka Sedge State Natural Area is distinguished by its remote nature and that it is also a protected nesting habitat for snowy plovers. Sadly, we see vehicles that routinely cruise up the beach, leave tire tracks up into the dune area and drive at speed just because they can.
The second is the area adjacent to the unincorporated community of Tierra Del Mar. Prohibiting vehicles from driving on the beach adjacent to a quiet residential area should just be common sense. Presently, vehicles routinely ignore the posted signage and set up for the day with their coolers, beach chairs, dogs and kids. They drive at speed and leave tire tracks boldly around the sign that says vehicles are prohibited.
For the past few months, Tierra Del Mar community volunteers have been monitoring the area, contacting the Sheriff's office and OPRD for enforcement, approaching vehicles to point out the signage, pleading with Tillamook County Commissioners to reclose the beach to vehicle driving, all to no avail. For the limited numbers of times there has been an enforcement response, we have seen no evidence that any citations have been issued.
When/if the rules are changed, there needs to be a concomitant commitment to education of enforcement officials and short-term rental property owners/managers, strict enforcement with citations, clear unambiguous and conspicuous signage on the beach and routine presence of enforcement officials.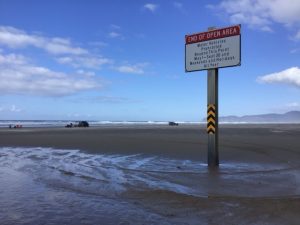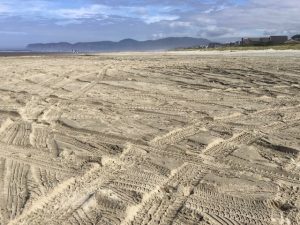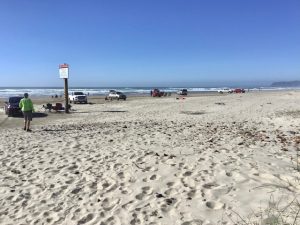 Here are photos that capture a tiny slice of the violations our community has endured.
Lynnae Ruttledge
member of the Tierra Del Mar community since 1992
EDITOR'S NOTE: The Oregon Parks and Recreation Department (OPRD) is requesting public comment on a proposed administrative rule amendment to restrict motor vehicles on two sections of the ocean beach in southern Tillamook County. The deadline for comments is 5 p.m., February 12, 2021. Comments may be made online at https://bit.ly/tillamookbeachdriving, at a virtual public hearing on January 28, 2021 (details to follow), by email to oprd.publiccomment@oregon.gov, and in writing to:
Oregon Parks and Recreation Department
Attn.: Katie Gauthier
725 Summer St NE, Suite C
Salem OR 97301
Maps and the exact rule language are also online at https://bit.ly/tillamookbeachdriving