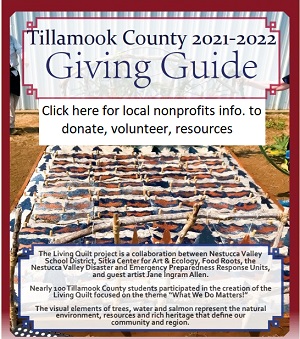 Photos by Don Backman
Let's lighten up – we certainly need to after the past two years – and the Tillamook County Pioneer will again feature the BEST light displays from south to north county. BUT – we need your help. We need to know where the BEST LIGHT DISPLAYS are in Tillamook County. Send your address/location to editor@tillamookcounntypioneer.net, OR FILL OUT THE GOOGLE FORM BELOW. We'll send our intrepid photographer Don Backman out to get some photos to be featured on the Pioneer, and best of all – we are putting together map that we will share the next day or two, and update, so we can all enjoy the creativity and wonder of the light displays. Then we're going to let our readers decide – the best light displays in North, Mid-county (Rockaway-Garibaldi-Bay City), Tillamook City area, and South County, and we'll award gift certificates from local area restaurants to the winning displays. So come on Tillamook County – LIGHT IT UP!
Here are Don's photos of the Bay City Arts Center tree lighting and a few of the displays around Bay City.
Sign up to be added to the Tillamook Coast Holiday Lights map to let others know where to come see your Christmas light displays and/or decorations and to be entered in the Lighting Up Tillamook awards! https://forms.gle/bZRmbJHWPpESodT49
Here's what Don had to say about photographing Christmas lights: "It's the time of the year for Christmas Lights! As a child I was fascinated by "candy-cane houses", and I sometimes think of decorated houses that way even today. I'll be going out in the evenings to take photos of Christmas lights for the Tillamook County Pioneer. So, if you see some guy out taking pictures in the dark, it's probably just me. Please, ask first before shooting! I stay on public property when photographing lights unless I have permission to enter private property.
I did a test run of my gear in between rain showers and saw a few people out working on their displays. We could all be in for a treat this year!