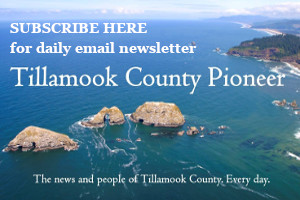 Manzanita, OR, April 18, 2022 – Lower Nehalem Community Trust invites the community to observe Earth Day by volunteering in one or both of two events. The first is a roadside cleanup on Earth Day, April 22, 2022. Check-in and refreshments will be at 8:30 AM at the intersection of Highway 101 and Hemlock Street at the north edge of Wheeler. Parking is available anywhere in Wheeler unless prohibited. Cleanup activity will begin by 9:00 AM and will encompass the roadsides between Paradise Cove Resort and Marina to the intersection of Highways 101 and 53.
LNCT Executive Director Ben Pittenger tells us, "Trash along this stretch of highway often ends up in the wetlands along the Nehalem Estuary, including those protected and stewarded by LNCT. Consequently, while volunteers are removing litter from the roadside, they are preventing trash from entering this critical wetland habitat."
Participants are asked to register through the Events page on the LNCT website, https://www.nehalemtrust.org/events. Click on the calendar link to access the page for event details and registration form. Walk-ins are welcome, but pre-registration is helpful for planning.
In conjunction with Oregon Department of Transportation (ODOT) Adopt-A-Highway program, safety vests, garbage bags and grabbers will be provided. Gloves will be available, but you are encouraged to bring your own. Participants should wear sturdy shoes for walking on uneven surfaces and dress for a full range of coastal Oregon weather.
Here's a video from last year's clean-up.

Join in the next day, Saturday, April 23, 2022 to help remove Scotch broom from Elk Meadows Park, located in Bayside Gardens on Neptune Way. Orientation begins at 9:00 AM and the work begins by 9:30.
Elk Meadows Park is owned by the City of Manzanita and stewarded by LNCT. Learn more about the event and how to get there on the calendar link at https://www.nehalemtrust.org/events. Pre-registration is not required. Gloves and tools will be provided, but you are welcome to bring your own. Again, wear those sturdy shoes and dress for the weather.

Lower Nehalem Community Trust, a non-profit organization, has been protecting and stewarding land in the lower Nehalem watershed since 2002.  Community donations support our work in land acquisition, restoration projects, and community education programs. For more information about LNCT call 503-368-3203 or visit https://www.nehalemtrust.org.