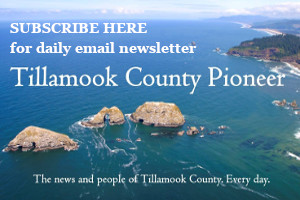 By Matt Maizel
Eric Sappington has found his niche at the Tillamook County Family YMCA, helping our community's youth navigate the options at their disposal at the YMCA. Eric has been helping adolescents in the area find their niches, as well. Whether that be team sports, working out, making art, talking, or just being involved with the community – there is something for everyone.
Eric was nice enough to take time out of his busy day to answer my questions about his progress with the young adults that he has been working with at the Tillamook County Family YMCA.
What do you do at the Y?
"I am the Youth Engagement Director at the Tillamook YMCA. My job is to find a positive outlet whether it be art, guitar lessons, or just having conversations with kids that do not have a person in their life to engage with. Finding resources for them to use as well as getting them items they may need. Most kids don't have the skills to be assertive and ask for what they need. Let's get them a job, food, clothing or support to help them succeed."
What do you enjoy best about working w/ teens?
"Teens all have a story and to know their story is where we can really build a positive relationship. Teens are easier to get common sense into their heads at a time when they need to. I enjoy their view on the world, as well. After the world shut down…teens are in a hard spot and need to be coached."
Would you give a quick summary of the kinds of projects that you help work on?
"Right now, we are working on mainly public art pieces. We are doing a Bilingual welcome sign for Liberty Elementary. I designed it, the kids are doing the work. Also, we have 5 guitars to play, so guitar lessons are being given whenever they want to sit down and learn.
How long have you worked w/ youth?
I have worked with youth for over 20 years but have been working with them daily for the last 6.
The YMCA is a safe space for teens to be social, have fun and experience different activities. If you are new and are interested in learning more about everything that the YMCA offers, call or come in, ask for a tour and an orientation! The Tillamook Family YMCA is located at 610 Stillwell Ave. Tillamook, OR 97141 – (503) 842-9622 – open Mon-Fri: 5 a.m.-9 p.m., Sat: 8 a.m.-12 p.m., closed Sunday.