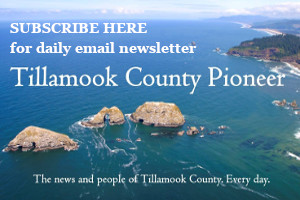 By Victoria Holt, PhD and Marc C. Johnson
We have reached a critical stage in Oregon's battle to control COVID-19.
Cases are increasing dramatically, including here in Tillamook County, death rates are accelerating, and hospitalizations are reaching a level that could in a matter of days force hospital and other health care officials to take drastic action to ration medical treatments of all kinds.
A few weeks ago, the Nehalem Bay Health District, the public agency that operates the county's skilled nursing facility in Wheeler, joined forces with the recently organized North Tillamook Public Health Information Group (NTPHIG) to provide regular, local and vital information about COVID-19 and other public health issues.
The Public Health Information Group is made up entirely of local north county, highly experienced public health professionals who identified the need to disseminate more information to residents and visitors in northern Tillamook County. To date, the group has produced science-based information on the benefits of mask wearing and where and how to access a seasonal flu shot.
The group has also provided regular updates to local officials, particularly in Manzanita. The health district and NTPHIG are also working to provide the vital public information for Spanish speaking residents.
All of this local public health information is available locally on several social media and other websites, including:
The health district website under "Public Health Information" – http://nehalembayhd.org/
The health district's Facebook page: https://www.facebook.com/nahbayhd
The city of Manzanita's website: https://ci.manzanita.or.us/
The health district and the North Tillamook Public Health Information Group strongly urge all residents to observe the universal public health guidance necessary to battle the pandemic: Wear a mask, avoid social contact with those outside your own home, and practice regular handwashing.
(Victoria Holt is an emeritus professor of epidemiology at the University of Washington where she headed the department of epidemiology. She lives in Manzanita. Marc C. Johnson, a resident of the Neahkahnie area, is president of the Nehalem Bay Health District board.)