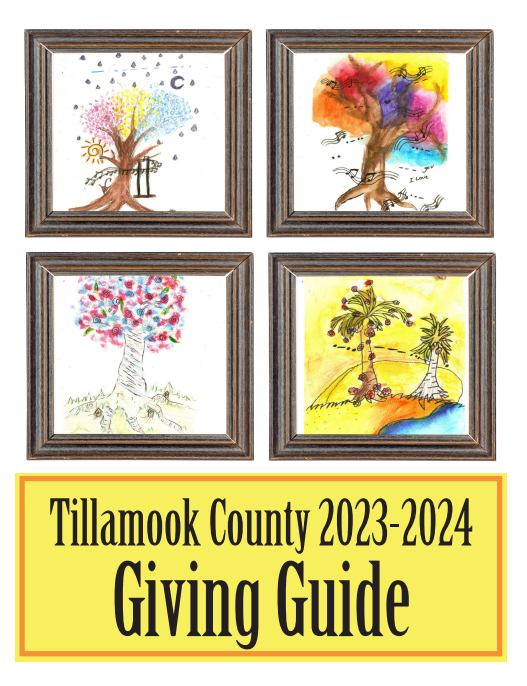 Story by Nikki Brown for the Pioneer; Photos by Don Backman
May 3, 2022 – Neah-Kah-Nie Middle School hosted a four-team track and field meet. Middle schoolers from Neah-Kah-Nie, Tillamook, Seaside, and Hilda Lahti jumped, threw, and ran their best during the competition. At stake were qualifying spots for the upcoming district meet May 14.
Tillamook 7th grade boys swept the top three places for shot put with Clayton Petty taking first (34'1), Canon Affolter in second (30'2), and Emmett Moody in third (29'7). In distance running, Ryan Sheets (8th grade Tillamook) came in first in the 3,000 meters with a PR time of 10:57 and beat his nearest competitor by nearly three minutes.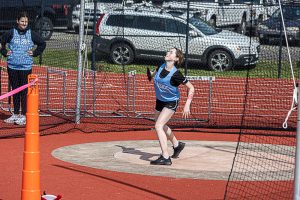 In Tillamook girls' events, Tillamook 7th graders nearly swept the 100 meter sprint with Madilynn Dinter in 1st (15.34), Brylee Harris in 2nd (15.42), and Maya Johnson in 4th (16.17) after being narrowly edged out by Neah-Kah-Nie's Jasmine Jones (15.75). Emmy Mulder took 1st place for 7th graders in the 400 meters (1:15:43).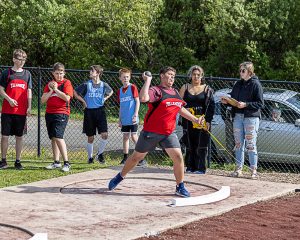 NKN 8th grade boys had a strong showing in shot put with Nathaniel Tinnes in 1st (34'4) and Mason Hackman in 2nd (33'10.5). R Weis took the top spot in 7th grade boys high jump (4'2). In eighth grade boys high jump, Liam Gibson tied for first place (4'10) and Noah Scovel tied for 3rd place along with Tillamook's Griffyn Boomer (4'6).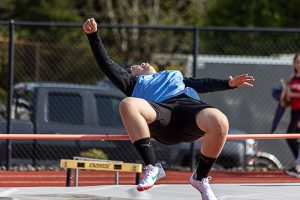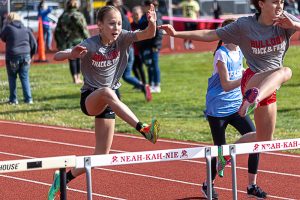 In NKN girl's events, Tia Mautner gave NKN a win in girls 7th grade shot put (29'6). In 7th grade girls long jump, NKN took 1st and 2nd with strong performances by Ellie Welsh (12'3) and Jasmin Jones (11'10). NKN Sara Vega took first for 8th grade girls long jump (12'11.5).
Full results can be found at: https://www.athletic.net/TrackAndField/meet/469507/results
More photos can be found: https://www.facebook.com/TillamookJr.HighLions/photos/pcb.5270014903050331/5270009923050829/