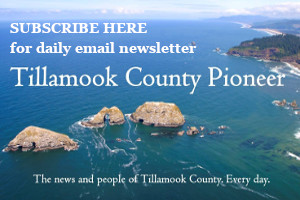 With the state and federal mandates requiring vaccinations of government workers, healthcare workers and teachers by Monday October 18th. There's been a lot in the news about healthcare service, fire departments and police agencies reducing, curtailing services and in some cases closing due to reduced staffing and employees quitting instead of getting vaccinated. The Pioneer reached out to the fire departments, school districts and healthcare providers to see about any impacts to our local services.
From the Tillamook Fire Defense Board:
The Tillamook County fire agencies are anticipating a substantial impact on staffing when the vaccine mandate goes into effect on October 18. Although agency vaccination rates vary, only one agency expects to be unaffected. It is anticipated that some staff or volunteers will resign, while the state mandate may force agencies to suspend or terminate others. There is also concern that some staff and volunteers, although fully vaccinated, may choose to resign either over opposition to the mandate or in a show of solidarity for their non-vaccinated counterparts.
The pandemic has already had a severe impact on the fire service; although the Tillamook County fire agencies strongly encourage being vaccinated whenever possible, the vaccine mandate has the potential for devastating effects on the fire service at a time when volunteerism is already at an all-time low. Due to the shortage of volunteers, some local fire agencies have discussed the potential need to reduce services such as non-emergency citizen assists, or even eliminating emergency medical response.
From Adventist Health Tillamook: There is no impact expected on services to patients at Adventist Health Tillamook.
The vaccination status of October 7, 2021 –
12 associates are unvaccinated and have not completed an exception application.
11 associates have completed only the first shot of their vaccine.
All providers are vaccinated.
From Tillamook County Community Health Centers: Over 90% of staff is fully vaccinated.  We anticipate no changes to services or care.
From Rinehart Clinic:  All providers and staff are vaccinated.
From Tillamook Family Counseling Center:  No impact to services to clients; providers are vaccinated.
From Tillamook School District:  Over 92% of certified staff vaccinated. We have over 74% of classified staff vaccinated; A handful of staff have resigned as a result of the vaccination mandate.