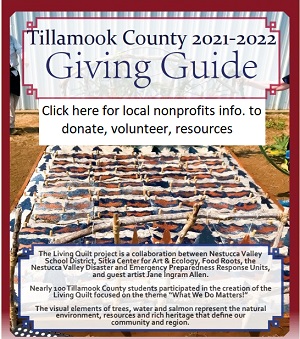 It's a perfect time to spring into action for National Volunteer Month this April, and there is no shortage of volunteers needed in North Oregon Coast communities.
There are proven health and wellness benefits to volunteering, from stress reduction to increased feelings of belonging and connectedness. Pairing one's skills and passion with a need in the community or cause of choice can be the first step to a rewarding volunteer experience.
For example, Ryan Weber, store manager at Umpqua Bank's Tillamook location, began volunteering with Tillamook County Outdoor School (TCODS) 14 years ago and enjoys contributing to the success of young people in the county by overseeing and guiding a group of high school counselors and their 6th grade campers through the week-long Outdoor School experience.
"By volunteering with Tillamook County Outdoor School, I'm able to return the favor I received of attending Outdoor School, by providing an accepting and encouraging environment for learning, growth and belonging for the next generation," shared Weber. "Since serving as an Outdoor School leader as a sophomore in high school, I continue to be grateful to stay involved in serving our youth across Tillamook county."
Tillamook County Outdoor School provides approximately 260 sixth graders and 70 high school student leaders from three school districts – Neah-Kah-Nie, Tillamook, and Nestucca – with a positive, safe, and caring environment to learn important life concepts in relating to and caring for our environment.
Thanks to the help of volunteers like Weber, TCODS continues to be recognized statewide as a model program by Outdoor School for All since its founding in 1966.
Volunteering is made easier for Weber thanks to his employer, Umpqua Bank, which supports community service by providing 40 hours per year each of paid volunteer time. It's part of the Bank's Connect Volunteer Network™ Program, 19 years and running. In 2021 alone, Umpqua Bank associates volunteered nearly 18,500 hours.
"There are so many opportunities to volunteer with Outdoor School – especially to help them gather newer and better camp equipment, from radios to fishing poles," he shared, "The pandemic took a toll on the budgets for Outdoor School, so donations can also be deposited directly into the organization's bank account at any Umpqua Bank location."
Individuals or companies interested in volunteering can learn more on the Tillamook County Outdoor School Facebook page at https://www.facebook.com/Tillamook-County-Outdoor-School-117969914943113/.
There are hundreds of nonprofit organizations throughout Tillamook County in need of volunteers – from the local food banks to Habitat for Humanity, TrailKeepers and many more – check out the Tillamook County Giving Guide for more information about organizations, or go to the Tillamook Coast Volunteers Facebook page to find out about more volunteer opportunities.