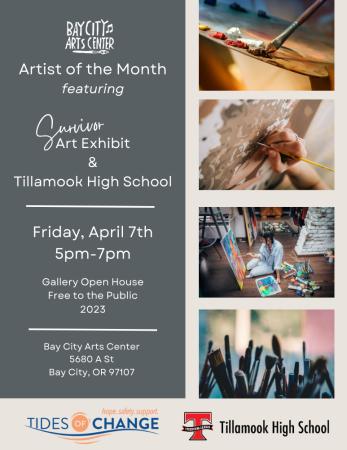 EDITOR'S NOTE: From reviewing social media posts and witness statements, this bus driver was a hero and certainly did a heroic job of driving to keep the students, teachers and chaperones safe, and only minor injuries. As one post noted, "Hug your kids today." Always good advice.
At 9:24am this morning, November 19,2021, Forest Grove Firefighters were dispatched to a reported crash on Highway 6 at Milepost 35. Initially it was reported to involve a bus, but no further information. As crews responded it was found out from multiple callers that a school bus, with 36 occupants had struck a loose flatbed trailer. There were reports of only one injury.
Crews arrived shortly later to find a full sized school bus sideways in the highway with damage to its rear axle area. Firefighters began triaging the occupants of the bus. It was determined that 8 of the 36 occupants were injured, but only 6 of the 8 needed transport to local hospitals with non-life threatening injuries.
The bus involved was from the Nestucca School District and was on the way to a field trip in Portland. It had 30 high school aged students, one teacher, four parent chaperones and one driver. Once the scene was under control, students and adults were placed on a new bus and returned to their school. Families of all involved had been notified by the school district and a representative was on scene working with responders.
The highway was completely blocked for over 2 hours and was open to one lane around 11:30am. At time of press release, the current status of the highway is unknown. Check tripcheck.com for up to date Oregon Highway information.
Oregon State Police is the lead investigating agency and will have further information into the cause of the crash.
Forest Grove Fire & Rescue was assisted on scene by Banks Fire District, Metro West Ambulance, Washington County Sheriffs Office, Oregon State Police and Oregon Department of Transportation.
FROM OREGON STATE POLICE REPORT:
On November 19, 2021, at approximately 9:29 A.M., Oregon State Police responded to the report of a collision between a trailer being pulled by a Ford F550 and a school bus on Highway 6 near milepost 35, west of Banks.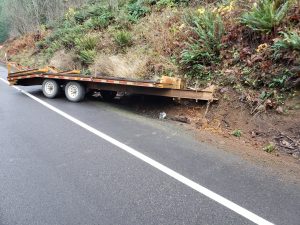 Preliminary investigation revealed that a red 1999 Ford F550 truck pulling an unloaded flatbed trailer, operated by Frank Rich (64) of OTIS, was traveling westbound on Hwy 6 near milepost 35 when the trailer began to fishtail uncontrollably and detached from the coupling. After separating from the truck, the trailer collided with the driver-side rear axle of the school bus. The school bus was from the Nestucca School District and was eastbound on Hwy 6 on a school field trip to Portland. The school bus was operated by Steven Parks (51) of Cloverdale. The school bus began to rotate and went into the eastbound ditch and came to rest against the embankment wall blocking both lanes of Highway 6.
There was a total of 6 adults, including the driver and 31 students on the bus. Seven people were transported by medics to various hospitals with minor injures and as a precaution.
The driver of the Ford F550 was issued a citation for the operation of an unsafe vehicle. He did not have the correct coupling system for the trailer.
The Oregon State Police was assisted by the Washington County Sheriff's Office, Forest Grove Fire, and the Oregon Department of Transportation.