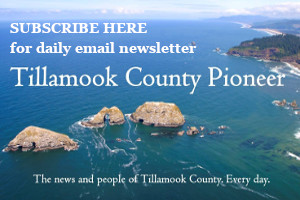 The Community Garden has been in operation at Alder Creek Farm since 2006 and we are welcoming community members who would like to join our team. The program is focused on teaching organic gardening in our coastal climate and growing food shared among Community Gardeners and with the North County Food Bank.
Community Garden members commit to 3 hours of volunteer work per week. The registration fee to join is $50 and scholarships are available upon request. We grow both a traditional row garden as well as a permaculture garden that demonstrates how flowers and vegetables can be integrated into a home landscape for an ornamental and edible approach to gardening.
We prefer that gardeners are physically able to bend, stretch, and occasionally lift 25 lbs but we do have jobs that are less demanding physically. Do you have a special skill to share? Building, maintenance, record keeping…?
Registration to join opens February 1st online at www.nehalemtrust.org. Community Garden Startup Day is February 25th from 9am to 12pm at Alder Creek Farm – 35955 Underhill Lane in Nehalem.
Those interested in joining the Community Garden are encouraged to contact LNCT's Garden Coordinator by phone at 503-705-5203 for questions. For Community Garden guidelines and to register (starting February 1st) visit http://www.nehalemtrust.org/alder-creek-farm/community-garden/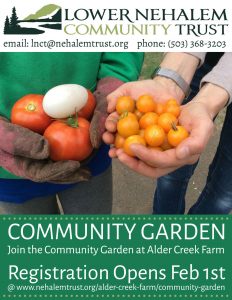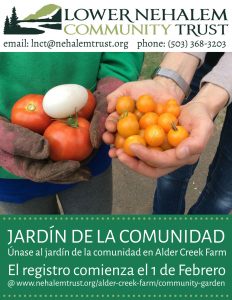 Lower Nehalem Community Trust, Community Garden Coordinator Karen Matthews: Karen@nehalemtrust.org