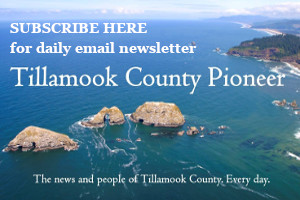 Manzanita, Oregon – On January 10th, geologist Tom Horning will take us on a journey through time discussing the Nehalem Alps, their formation, the Yellowstone Hotspot, uplift of the coast range, the Tillamook Volcanics and how it all relates to the North Coast Land Conservancy's Rain Forest Reserve Project! The talk is titled "Geology of the Nehalem Alps". Tom wears many hats. In addition to running Horning Geosciences he also works with the North Coast Land Conservancy and has served on a variety of Seaside committees. Furthermore, he's a Seaside, OR native and has personal experience with tsunamis. If anyone knows about local geology, it's Tom!
Before Tom's talk, the Lower Nehalem Watershed Council will hold its Annual Meeting. The Annual Meeting will include a presentation on LNWC's work over the last year. This will cover progress toward culvert replacements, an extensive habitat assessment, hiring a new Council Coordinator, and lots of project monitoring. The LNWC will also be electing Board Members and officers for the Board of Directors. Come and find out how you can be involved with improving our watershed. Members who have attended 2 or more meetings in 2018 are eligible to vote.
This event will be held at the Pine Grove Community House, 225 Laneda Ave, in Manzanita. The Annual Meeting begins at 5 pm. The presentation will start at 7:10 pm following a brief update from the Lower Nehalem Watershed Council at 7 pm.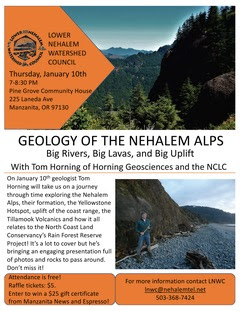 This event is part of the Lower Nehalem Watershed Council's regular Speaker Series. Join us at the Pine Grove Community House each 2nd Thursday in January through May, October and November for natural resource focused presentations. We raffle off a gift certificate or special item from a local business supporter during each event. This month we have a $25 gift certificate from Manzanita News and Espresso. Raffle tickets will be available for a $5 donation at the door and the winner will be drawn at the end of the presentation. Swing into Manzanita News and Espresso at 500 Laneda Ave. to check out their goods and join Lower Nehalem Watershed Council on January 10th for a chance to win this great prize.
This event is FREE and open to the public. Find more information on our speaker series on our Facebook page (https://www.facebook.com/lnwc1).
Time & Agenda:
· 5:00 PM Annual Meeting
· 7:00 PM Council Updates
· 7:10 PM Presentation
· 8:30 PM Adjourn