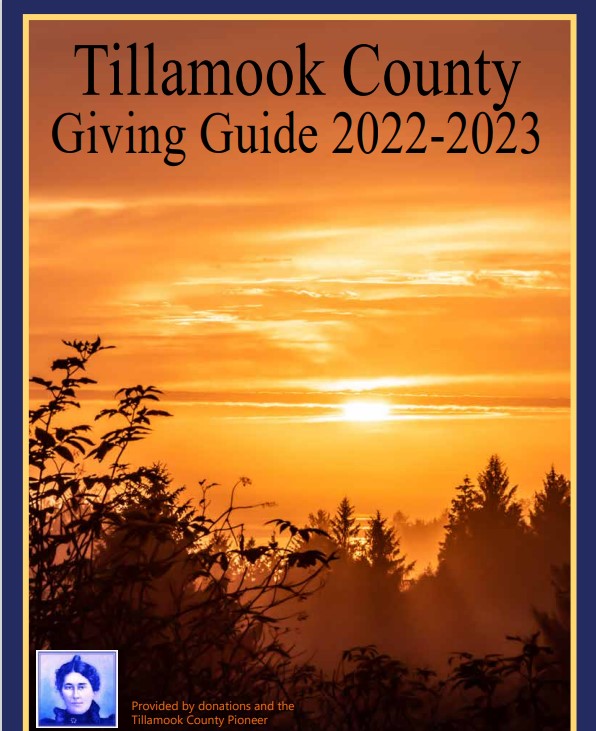 Manzanita, Oregon – On January 9th the Lower Nehalem Watershed will hold its Annual Meeting and present the "Year in Review". The Annual meeting will include thanking outgoing board member Erik Neilson as well as elections for new board members. New board members are elected by the Watershed Council Membership and will serve for 2 years. Watershed Council Members can vote for in the Board Election if they have attended 2 or more watershed council events in 2019.
The "Year in Review" will explore the council's activities throughout 2019. These activities include ongoing research, a new outreach program, habitat enhancement activities, project monitoring, environmental education events, and more! This discussion will also include ways in which you can get more involved with the council and more of what the council can do for you. Finally, the council will look forward to its goals for 2020.
The Annual Meeting and Year in Review will be held at the Pine Grove Community House, 225 Laneda Ave in Manzanita. The Annual Meeting will begin at 5 pm. The "Year in Review" will begin once council business is concluded at approximately 6 pm. Refreshments will be provided.
The Annual Meeting and Year in Review is a part of the Lower Nehalem Watershed Council's regular Speaker Series. The LNWC hosts speakers at the Pine Grove Community House the 2nd Thursday in January – May and October – December. A gift certificate or prize is raffled off at each event from a local business supporter. This month the council will be raffling off a $25 gift certificate to Manzanita News and Espresso. Raffle tickets are available for a $5 donation at the door.
Also available by donation are "I <3 the Nehalem River" bumper stickers and "Art in the Watershed" 2020 Calendars. All proceeds from donations support the council's activities planting riparian buffers, enhancing in stream habitat, replacing culverts and tide gates, and bringing high quality environmental education to the Nehalem River Watershed.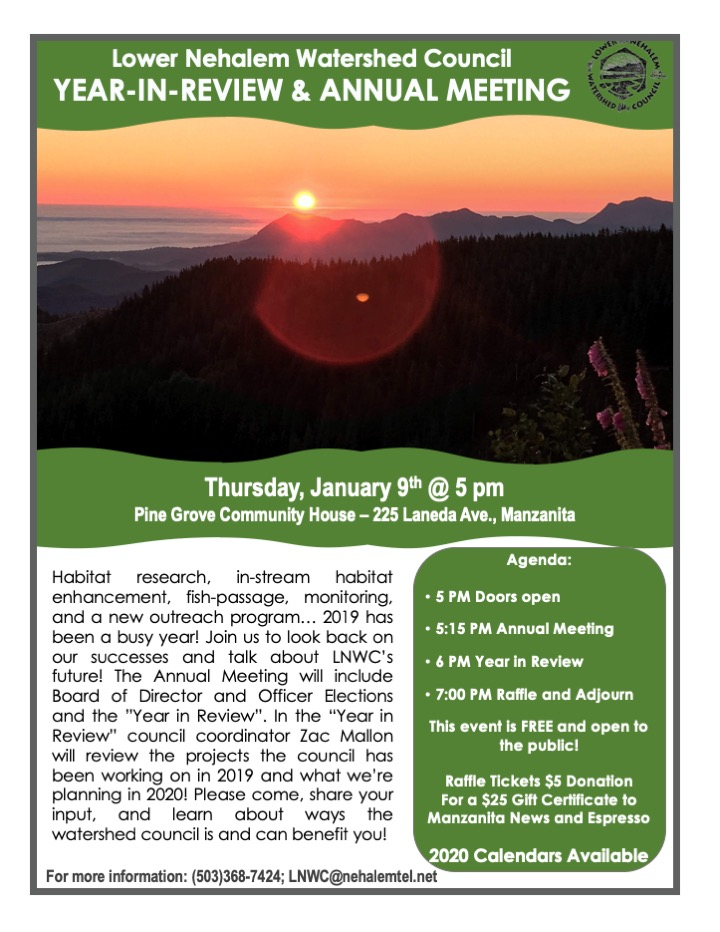 Event Information: This event is FREE and open to the public. Find more information on our speaker series on our Facebook page (https://www.facebook.com/lnwc1).
Date & Location: January 9th, 2020 at Pine Grove Community House (225 Laneda Ave, Manzanita)
Time & Agenda:
· 5:00 PM Annual Meeting
· 6:00 PM Year in Review
· 7:30 PM Adjourn