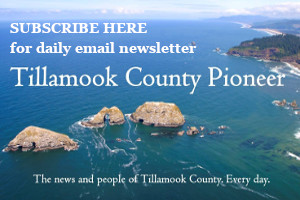 CANNON BEACH — Chuck Willer, executive director of the Coast Range Association, will speak at 7 p.m. Friday, Feb. 8, at Tolovana Hall, 3779 S. Hemlock St. in Cannon Beach.
Willer's presentation will be the first full exploration of the Coast Range Association's (CRA) assessment of Wall Street forestry in light of the climate crisis. Given the warnings from the scientific community that society has 12 years to move into a full carbon transition, Willer will address what may be warranted for Oregon's corporate forests.
The CRA believes new factors have arisen that have not been adequately considered by Oregon's climate change community.
For one, it is now known that the timber industry is Oregon's number one carbon polluter, significantly contributing to greenhouse gas emissions. Foremost among new positive factors is the political initiative known as the Green New Deal. While the Green New Deal is being heatedly debated in Washington D.C. and supported, in concept, by Oregon Rep. Earl Blumenauer, little discussion has occurred on how the initiative may assist Oregon's carbon transition.
Chuck's talk will be the first exploration of an Oregon carbon transition for corporate forests in light of three areas of understanding:
• Insights cataloged by past Coast Range Association research into Wall Street driven forest management.
• The latest findings in climate science and the documentation of carbon pollution by Oregon's current forest owners.
• Opportunities offered by the Green New Deal that have not been explored in their application to Oregon, much less its forest.
The conclusions drawn and recommendations offered will be a first in Oregon's evolving discussion of climate, forests and the required economic transition we now face.
For more information, contact Willer at 541-231-6651 or chuckw@coastrange.org.