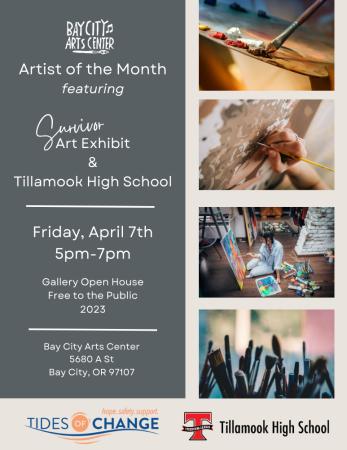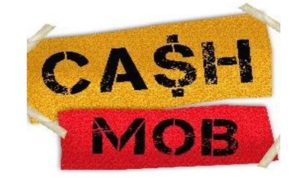 By
Dan
Haag,
Manzanita Visitors Center
There's no denying the oddity that has been the 2016/2017 edition of winter weather on the North Oregon Coast. From a tornado, to drenching rains, to an unbelievably long cold snap, Tillamook County residents have seen a bit of everything this winter season.
It's a lean time of year for coastal businesses in the best of times. With snow, ice, and water keeping many inland travelers from visiting our neck of the woods, times have gotten a little leaner.
Translation: it's time for a "mob." A Cash Mob, that is.
The first Manzanita Cash Mob was born out the aftermath of the
October 14
th
tornado that damaged many of the town's homes and businesses.
Staged out of the Manzanita Visitors Center with the generous support of the Tillamook Chamber of Commerce, the event brought a much-needed infusion of shoppers, lodgers, and diners to Manzanita.
That, in a nutshell, is the goal of the second Manzanita Cash Mob. This time it's to encourage shoppers to come out after a long winter of hunkering down due to poor weather.
Scheduled for
Saturday, February 18
, participants are asked to meet at Visitors Center at 11 am and the event runs until 4 pm. As before, rather than focusing on a single business, the Manzanita Cash Mob is a town-wide event.
The rules of the Cash Mob are beautifully simple. Bring your family and friends to town, spend the day shopping and dining, and spend at least $25.
Merchants are offering a wide variety of sales and specials, and a few are even holding a prize drawing for customers. In other words, you can find a fantastic array of gifts for quite a few of the "special someone's" on your list.
Check out some of the specials running in Manzanita that day:
– Unfurl: Winter clearance sale that weekend with many items up to 75% off. Also, a drawing for an Eli Halpin "Deer Love" canvas art print. It is a $165 value, 36 x 18.
– Four Paws on the Beach:
20% off gift certificates up to a gift certificate value of $100; 15% off all dog and cat toys; 50% off table in front of the shop (weather permitting); $25.00 gift certificate drawing (no purchase necessary)
– Manzanita Fresh Foods: $5 Reward for Neah-Kah-Nie Rewards members for a $50 dollar purchase, and an additional $5 on top of the standing $5 reward for a $100 dollar purchase totaling $10.
– Cloud & Leaf Bookstore: 15 % discount on all hardcovers
– Syzygy: $30 off for purchases greater than $200.
– Spa Manzanita: Discounts on romantic spa packages
– The Refindery at CARTM: Red-tagged items at half-price. One "treasure hunt" item free to person who finds it.
– T-Spot Gifts:
50% off the last price on all sale; 20% off all purchases over $200; 10% off all purchases over $100
– Manzanita Beach Getaway Rentals: 10% off for February reservations
Finnesterre:
All furniture and select lighting 20% off; select jewelry 20% off; select pillows and throws 20-30% off
(consignment items excluded); PLUS Cash Mob Drawing: on
February 18th
, enter to win one of our just-arrived custom Manzanita pillows
Ocean Inn:
– 10% off Gift Certificates— (Restrictions apply)
But wait, there's more! Spend $50 or more locally and bring your receipts from the day back to the Visitors Center. You'll be entered into a drawing for some wonderful prizes:


– 5 class pass from Yoga Roots Studio
– 5 hours of cleaning service from Sunset Vacation Rentals
– Gift certificate from Sister's & Pete's Coffee & Treats
– Welcome/membership package from Hoffman Center For The Arts
– Art prints from Amanita Gallery
– "Coffee with an Author" package with Manzanita author/editor Holly Loricnz
– Gift certificate from Coastal Soul
– Two tickets to Riverbend Players' production of "The Curious Savage" at NCRD Theater.
– Hand-crafted jewelry piece from Lucy Barna at Votive Designs
Remember, it's not just shopping receipts that count. Shopping makes you hungry, so hang onto those lunch receipts. Staying in Manzanita for the night? Receipts from your hotel or vacation rental most definitely count, also.
So really, you can't afford not to come to Manzanita on
February 18
th
! Besides partaking of so many great deals and prizes, you'll earn the gratitude of some fine business owners.
You'll also discover the true value of shopping locally at a time of year when it is needed most.