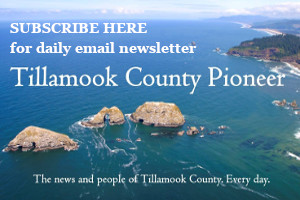 WHAT:  MANZANITA DAY CELEBRATION
WHEN: FRIDAY, MARCH 31st
WHERE: Hoffman Center for the Arts, 594 Laneda Ave, Manzanita, OR
TIME:     Plant Sale, 11am-1pm  (admission FREE)
Gardening in A Changing Climate, 2-4pm (admission $20)
Look around at the places we live and you'll likely notice they're named after ocean bays, explorers, military outposts and native peoples. But only one place here in Tillamook County has the honor of being named for a plant: Manzanita, OR.
The shrub it's named for, manzanita, took root in Oregon about one and a half million years ago. It's scientific name is Arctostaphylos, not a word that trips off the tongue. But the name manzanita's a beauty, as is the red-berried plant. So when residents of a new coastal town wondered what to name it, Manzanita proved irresistible.
That happened about a century ago. But the celebration of the plant is alive, well and in full flower today.
By official proclamation, March 31st is Manzanita Day, the day the City celebrates "the plant that spells home". As in years past, the Hoffman Center for the Arts is the hub of the day's festivities.
"This is our fourth annual Manzanita Day event," says Hoffman volunteer, Ketzel Levine, "and judging by the way we've been hustling, this is easily our most ambitious celebration yet!"
The 2-hour morning event begins on Friday at 11am with a plant sale inside the Hoffman Center.  On sale will be several different species of manzanita (Arctostaphylos) as well as a variety of colorful Oregon wildflowers, including meadowfoam (Limnanthes) and baby blue eyes (Nemophila). There is no admission fee.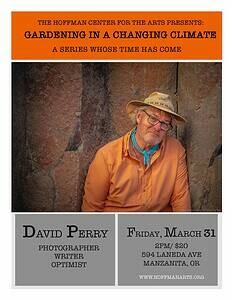 The celebration continues at 2pm with a presentation by celebrated NW garden photographer David Perry. His talk is entitled, Gardening In A Changing Climate. Tickets are $20.
"The thing about manzanitas," Levine continues, "is that as much as they speak to our past, they're well-adapted to our future. With winters predicted to be wetter and summers hotter, the genus Arctostaphylos is not likely to blink.
"What they need in the home garden," she explains, "is full sun, fast drainage, no summer water after their first year, and never ever any fertilizer. If only all garden plants were so easy to grow!"
For more information about Manzanita Day, visit
https://hoffmanarts.org/events/manzanita-day-2/
WHAT: MANZANITA DAY CELEBRATION
WHEN: FRIDAY, MARCH 31st
WHERE: Hoffman Center for the Arts, 594 Laneda Ave, Manzanita, OR
TIME: Plant Sale, 11am-1pm  (admission FREE)
Gardening in A Changing Climate, 2-4pm (admission $20)