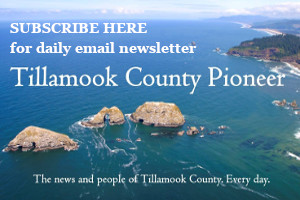 Compiled by Laura Swanson, Editor, Tillamook County Pioneer
Manzanita had a special city council meeting December 20th to approve the conservation easement presented by Pine Grove Properties (Tony Erickson and Jim Pentz) to the city for the golf course property. "The easement guarantees the city and community that the golf course will never be developed. It will always be a golf course or at the very least open space for the public. NO building ever."
According to Pentz' partner in Encore Development, Rick Hinkes, "This is consistent with what we all said during the Village development pre-application meetings. It's critical to Jim and Tony the course be kept 'green' per Ted Erickson's original vision."
He continued, "This easement assures the land will remain a golf course or, if the course isn't viable, a green space free of development. I played that course many times two plus decades ago with little kids in tow and love that those memories will be preserved. I'm very, very proud of Jim and Tony and congratulate Manzanita for the gift of this landmark area being preserved."
"We are working hard to get the course ready to open under new management around the first of the year, since Steve's much deserved retirement," added Pentz.
Erickson and Pentz were unable to attend the special meeting and sent the following statement to the Manzanita City Council about the proposed conservation easement.
On behalf of Pine Grove Properties, we send our regrets at not being able to attend today's meeting. This is most assuredly an important issue to us and our not attending in no way diminishes that.
Consistent with the plan presented by Encore Development at "The Village at Manzanita" pre-application meeting, the golf course and its future has been a priority. Given the feedback by the Planning Commission and the community, Pine Grove and Encore decided to segregate the golf course from the development. Since our priority for the golf course hadn't changed, a new course of action evolved.
The golf course represents, to us and all of the Erickson family, not only an important community asset and part of the "heartbeat" of Manzanita, but also a tie to Tony's grandfather and Jim's dear friend, Ted Erickson. Continuing Ted's vision in perpetuity has always been the priority. To accomplish this and taking into account Steve Erickson's retirement from operating the course, we have elected to provide a conservation easement to assure the property would remain, at minimum, a golf course or, if the course cannot remain financially viable, a green space that also reflects Ted's original vision and Steve's hard work keeping it viable all these years.
Work on the future of the course remains ongoing and it is our intent that it will reopen in the first quarter of 2018 under new management. Details will be forthcoming in the next few weeks.
We appreciate the support we've received from the city, and especially from Mike Scott and Steve Nuttall, as we finalize the future of this very important community resource.
We're both grateful to Manzanita for what the city has meant to both of our lives and happy to make this happen for the good of the city and its citizens. If Ted is out there watching, he's no doubt smiling at this dream remaining as part of his legacy.
Jim Pentz & Tony Erickson, Pine Grove Properties Inc.