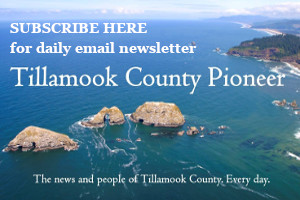 By Dan Haag
Manzanita Music Festival (MMF) returns Friday and Saturday, September 14th and 15th, 2018. Presented by San Dune Pub, the two day music festival will take place in Manzanita at three venues: San Dune Pub, A Mighty Thai, and MacGregor's Whiskey Bar.
Now in its third year, the event is an annual musical celebration featuring emerging and established artists from a wide variety of genres.
This years' MMF has moved to September from July and boasts more streamlined schedules and venues.
MMF founder Beth Carter-Boyer says getting the event out of the push of summer high season makes it more accessible to locals. It also allows for stronger focus to the artists by putting them in more intimate settings.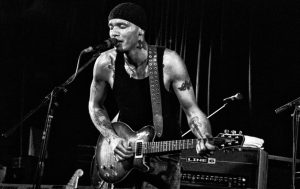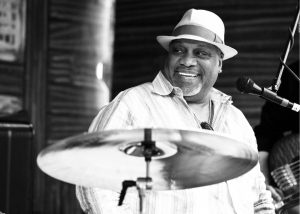 Some of the performers include The Michael Williams Band, The Resolectics, local favorites Sedona Fire Band, and a guest appearance by Tony Coleman, former drummer from blues legend B.B. King.
Despite a new time of year and new venues, the festival's overall goal remains the same: to support artists, enrich the local community, and support local schools by providing access to music education, instruments, and ongoing music performances.
Why is music education so important to MMF organizers? Carter-Boyer thinks music connects everyone to joy, shared experiences, and cooperation.
"Music goes towards emotional, physical and mental health," she says. "It's a great way for kids to find their way to express themselves."
A big part of that educational component will round out the days following this years' MMF: renowned world musician Fareed Haque will hold a two-day music camp in Manzanita at the Historic Reed House on Monday, September 17 and Tuesday, September 18.
Haque will also be performing at local school assemblies both mornings before the camp begins.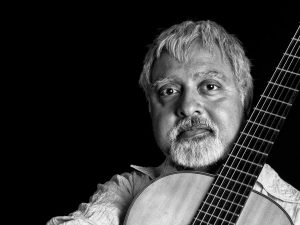 "Fareed is such an incredibly talented musician and extremely generous person," Carter-Boyer says. "This camp is going to be something special."
As in years past, it takes a village to create an event with so many moving parts. Carter-Boyer is excited that so many sponsors stepped forward and saw the value in continuing the event.
"I can't say enough about the support we've received from our venue partners and the community as a whole," she says.
MMF's main sponsor is San Dune Pub, one of the premier live music venues on the coast and a sought-after performance venue for musicians. Pub owner Debra Greenlee is thrilled to a part of the event and its mission and thinks hosting MMF is a natural fit.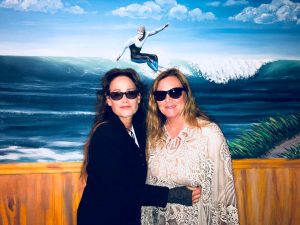 "When I realized the funds go towards Tillamook County schools music programs, I wanted it (MMF) here," she says. "I'm really excited about it, it makes my heart sing."
Beyond the San Dune Pub, music is a very personal thing for Greenlee: she comes from a family of musicians and has worked as a dance teacher. She's also had children and grandchildren attend local schools and is upset by the dearth of funding for the arts.
"The lack of music and arts programs in our schools is just devastating," she says. "There are a lot of kids in foster care or have parents in jail who need this. Music helps kids come out of their shell."
Carter-Boyer is thrilled to have Greenlee's passion and energy as a driving force for his years' MMF and thinks that will show in the event.
"Debra's willingness to take this to the next level, along with all our sponsors, makes all the difference," she says.
As to what she's looking forward to the most in this years' MMF, Carter-Boyer says the music will speak for itself.
"I was laying out the white board schedule the other day and I thought 'this is going to be damn good,'" she says.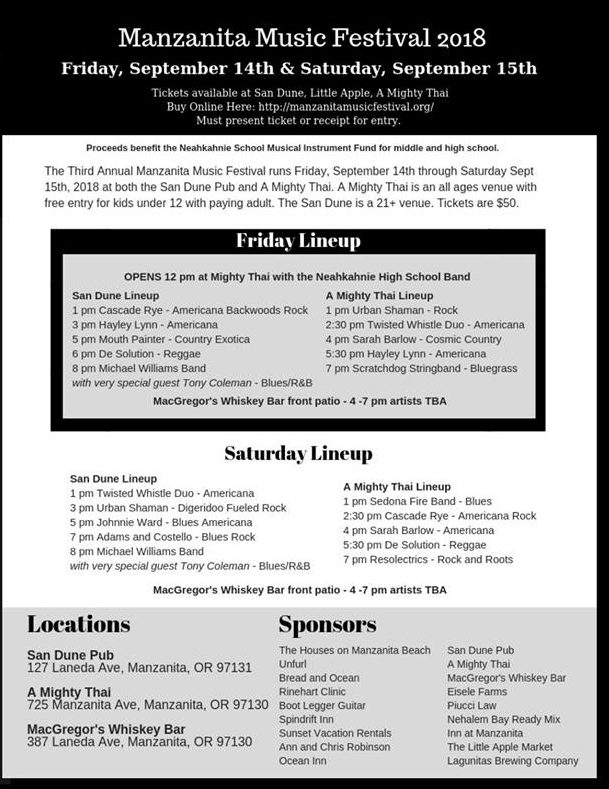 For complete schedule and venue info, visit www.manzanitamusicfestival.org
For course content or to register call (503).300.9551 or visit www.fareed.com