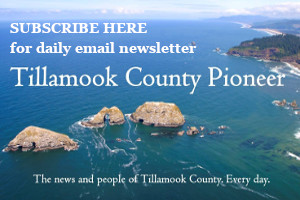 By David Dillon
Lee Hiltenbrand was named Manzanita's Citizen of the Year at the June 8 meeting of the city council.
Announcing the honor, Mayor Mike Scott said Hiltenbrand "brought considerable professional technical background to the corps of volunteers who serve our city, its citizens, and the surrounding communities."
Scott added, "Knowledge, humor, and commitment have been the hallmarks of that service."
Hiltenbrand has participated on the Emergency Volunteer Corps of Nehalem Bay, the Friends of the North Tillamook County Library board, the Short-Term Rental Oversight Work Group, and the Planning Commission, and the Public Works Augmentation Team.
Manzanita's Citizen of the Year is selected annually by a committee of previous honorees.