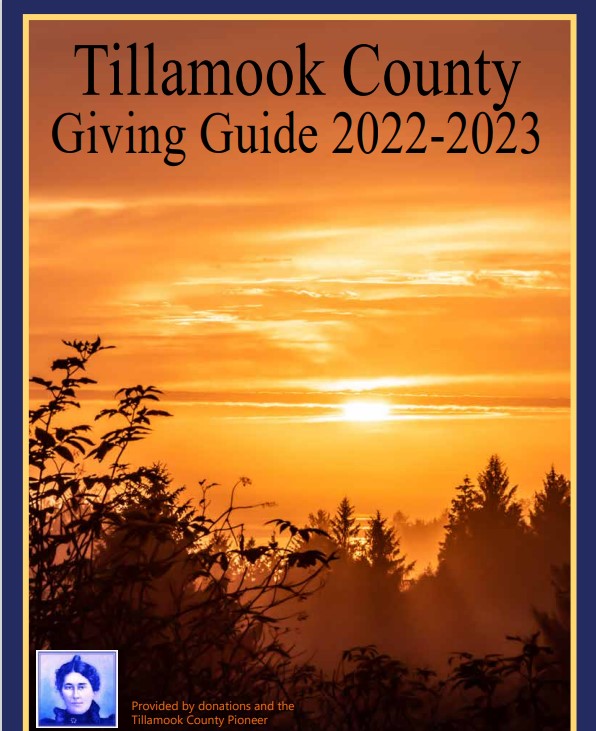 Story, Photos & Vidoe By Don Backman
"This is real science," Denise Harrington, retired Tillamook teacher now National Oceanic and Atmospheric Teacher at Sea Fellow (TASAA fellowship) for the National Marine Sanctuary Foundation, told the assembled 5th and 6th grade students from East School in Tillamook. Having unloaded from the bus and gathered around her for an introduction to the day's events, the students repeated back "Marine Debris Surveyors!" when she asked them what they were.
Marine Debris Surveys are used all along the coastline to measure the amount of marine debris washing ashore. This information is then classified, and the data is entered into a national database. The surveys help determine the size of the marine debris problem.
The students divided up into three groups, each with several adult group leaders wearing yellow vests. One group went to the picnic tables to learn how to identify and classify marine debris. Another group took plastic garbage bags provided by SOLV and walked down the beach out of the study area and began looking for plastics and other debris that had been washed ashore. A third group then began the process of performing a marine debris survey.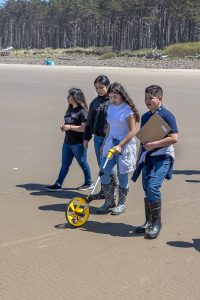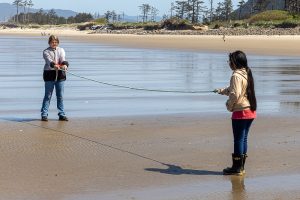 A 100-meter section of beach was marked into 5-meter sections with orange flags. The survey students were randomly assigned to sections. They then used 5-meter-long ropes to help them measure the distance from the top of the beach down to the water's edge. After that, they used the 5-meter ropes to maintain spacing as they walked their transects – each 5-meter-wide path — down the beach, looking for any visible debris. While debris must be the size of a bottle cap or larger to be counted, all debris is picked up. Once they completed the transects, the students then examined the debris they had collected, classified it, and recorded the data.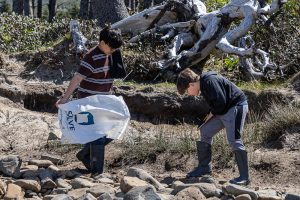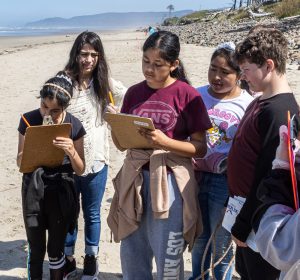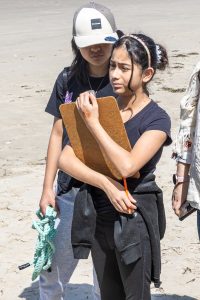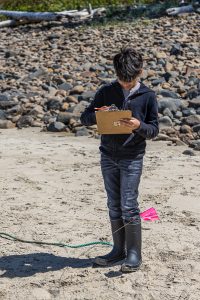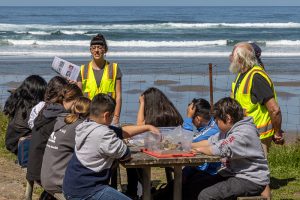 The groups rotated through each station so that all students took part in all the tasks. When they finished, a bit tired from all the walking, they assembled and examined the huge pile they had collected.
Harrington and Chun-Sajqui were assisted by Amy Schmidt, Natural Resources Coordinator for TSD9, Chrissy Smith, Director of Friends of Netarts Bay, Gwen Starrett, Board Member of Friends of Netarts Bay, and many others.
The students enjoyed the sunny and warm day on the beach, performing real science. They may remember the day simply as one of having fun at the beach, proving science can be fun.