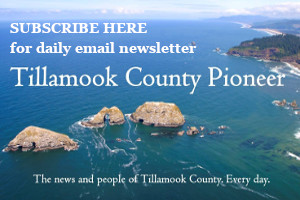 The Emergency Volunteer Corps of Nehalem Bay (EVCNB) invites you to be at Manzanita's Underhill Plaza on Thursday, June 16, 2022 from 11:00 AM to 2:00 PM. The event is free and participation is highly encouraged for locals and visitors from outside of the Nehalem Bay region.
Guests will learn the importance and solutions for individuals and communities to be prepared for a range of emergencies. A guided interactive tour will explain the operations of an emergency mass care demonstration setup. Participants will learn what immediate actions can be taken on a personal level to reduce the need for evacuation to a mass care site, allowing this critical capacity to be available to those most in need. They will also learn about the many rewarding ways to become involved in the work of EVCNB as a volunteer.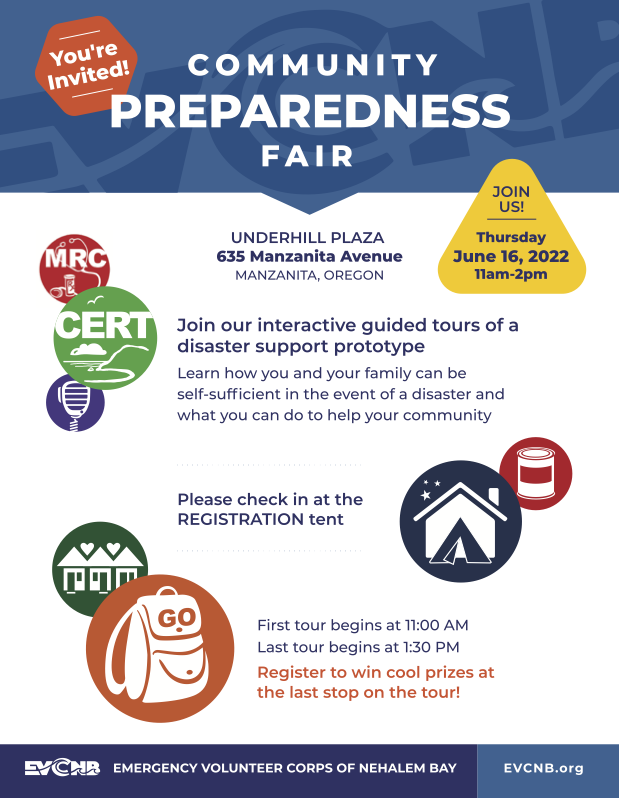 "We are so thankful for the participation of the many organizations that are making this event possible, including our own EVCNB volunteers," says Margaret Steele, EVCNB President. "The mass care setup provided by Oregon Department of Human Services will garner attention and allow us to show how it fits alongside community preparation in the spectrum of emergency preparedness."
Organizations partnering in this event are: Oregon Department of Human Services Office of Emergency Management, Oregon Health Authority, Tillamook County, Tillamook County Health Department, Nehalem Bay Fire & Rescue, City of Manzanita, Nehalem Bay Health Center & Pharmacy (formerly Rinehart Clinic), and Adventist Health.
The Emergency Volunteer Corps of Nehalem Bay (EVCNB) is a non-profit organization dedicated to building personal, community and regional resilience, developing programs to ensure readiness, and promoting a culture of emergency preparedness. Learn how to prepare yourself, your family, and your community for emergencies by visiting www.evcnb.org. While there, you can sign up to be a volunteer and to receive our newsletter. You can also make inquiries at info@evcnb.org or call (503) 389-5820.