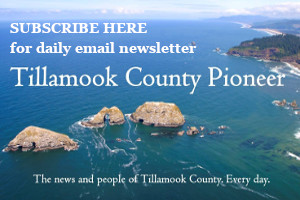 By Laura Swanson, Editor, Tillamook County Pioneer
Tillamook High School Senior Anna Mattson has a few things on her plate right now, in particular, graduation which is looming June 1st, and getting a copy of her speech for graduation to the principal, Mr. English. Just another project deadline for this young woman, who's been active in speech and debate, and is used to deadlines and pressure. Most graduates are walking around right now with that glorious "lighter-than-air", feet a few inches off the ground feeling that comes with life's milestones, but for Anna there's even more reason to celebrate.
She just returned from a week at the International Science and Engineering Fair in Pittsburg, Pennsylvania bringing home a 4th place award for her microbiology presentation about Olympic oysters. That's 4th place in the WORLD! Over 1,800 students from 81 countries converged on Pittsburg. "It was an amazing experience," said Mattson. "To spend time with like-minded people."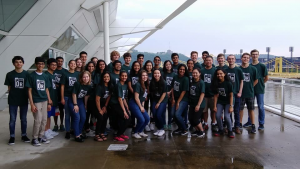 The competition was based on poster information and on interviews about the participant's presentation.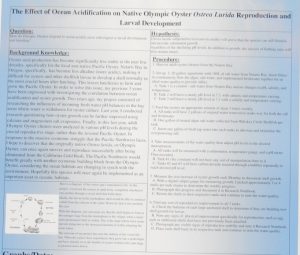 "The effect of ocean acidification on Olympic oysters" was the focus of Anna's experiment and presentation. Working with Whiskey Creek Shellfish, she compared the native Olympic oyster, and the non-native (and now main oyster grown here) Pacific oyster and the effects of ph levels, in particular acidity, on the oyster's growth and reproduction. Her research showed that the native Olympic oyster was more durable and adjusted to varying ph levels. "The native Olympic oyster was wiped out by early settlers and in particular the miners during the Gold Rush era," explained Mattson. When oysters became a commercial product, non-native "Pacific" oysters were the chosen variety. "I think that my topic and research has real world application," she added. Her research might encourage oyster farmers to consider re-introduction of the Olympic oyster that could lead to the re-establishing of this native oyster variety as a commercially grown oyster.
THS Science Research students have developed a national reputation for their work in natural-resource science, and have won awards, trips, and scholarships valuing over $845,000 during the past 12 years. The Intel Northwest Science Expo is the state-level science research competition for Oregon. It is affiliated with the Intel International Science and Engineering Fair.
As Anna prepares her speech for graduation, she is also getting ready for the University of Oregon where she plans a double major in journalism and marine biology. "I want to write about climate change and its impacts on our environment," said Mattson. "Researching these topics is great, but to affect real change we need to be educating and informing the public about how their actions impact our environment."
EDITOR'S NOTE: You go, girl! High-fives, and beyond proud that this young woman represents Tillamook County, and has excelled in science. Then to hear that she wants to write about it. That's what the Tillamook County Pioneer is all about – educating and informing our readers about issues that impact our way of life. When Anna mentioned her double major focus, we hope that we can look forward to the opportunity to publish her research and writing in the future. Congratulations, Anna!