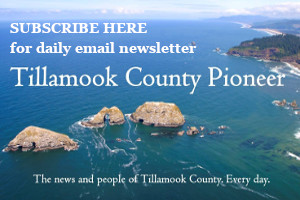 By David Gomberg, State Representative, Oregon House District 10 (South Tillmaook County and Lincoln County)
As I mentioned in my recent Special Session report, House rules do not let me send newsletters before an election. That's why you have not heard from us for the past two months. But we've been busy out and about in our remarkable district. Here are some samples of news and activities.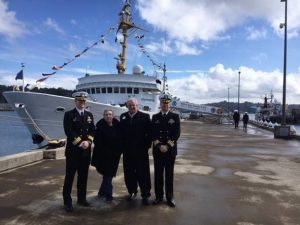 With Newport Mayor Roumagoux, the Rainer, and her Captain at the NOAA Anniversary Celebration Memorial Observances
Yesterday was Memorial Day. As I often do, I went to Depoe Bay for the Fleet of Flowers. Each year we celebrate our veterans, honor our Coast Guard, and remember those local mariners lost at sea. The entire fleet from the World's Smallest Harbor parades out into the bay to drop wreaths and remember.
I was struck yesterday with the thought that, while we celebrate Memorial and Veterans Days, that our veterans serve every day. Their families sacrifice every day. And we are now in a unique period in American history engaged in our 17th year of active, sustained combat. More in our communities have served. And many come home challenged by job insecurity, health insecurity, and housing insecurity. That's why I'm so pleased to see veteran's services across our district increasing with the passage of Measure 97 and our recent budget commitments.
For a special insight in to the nature of sacrifice and the impact on local families and communities, please click here.
Special Session
The Special Legislative Session called by Governor Brown to help small business was concluded in just one day. The one measure considered passed in the House and Senate with strong bipartisan support. Sole proprietors will now get the same benefits as other small businesses.
I will continue to advocate for meaningful tax breaks to our smallest and newest businesses to help them grow, hire, and thrive. This includes seasonal businesses like fishing, farming, and tourism. Click here to see my testimony on this important issue.
Treasury Tour
I recently had the pleasure of hosting State Treasurer Tobias Read on a focused tour of District 10. We visited the Cultural Center in Lincoln City to hear about improvement plans, toured the Hatfield campus in Newport to learn about the Marine Science expansion, had dinner with community leaders, and joined the League of Women Voters in the evening. A gray whale was even kind enough to make an appearance when we stopped in Depoe Bay!
Treasurer Read and I discussed the importance of college savings for families across the state. The Oregon College Savings Plan is offered through the Oregon State Treasury allowing families to save for education in tax-advantaged accounts. Anyone contributing to the Oregon College Savings Plan can also receive a state income tax deduction.
Funds can be used at trade schools, community colleges, or universities throughout the country. Money can be used for tuition, books, room and board, fees, computers and other required supplies. It can also be used for studying abroad in many cases. To learn more, please visit https://www.oregoncollegesavings.com/.
Affordable Housing
Last week, Governor Kate Brown announced five affordable housing pilot projects across the state. I am proud to tell you that two of those projects are in our House District 10.
In Pacific City, Nestucca Ridge Development, the locally-owned parent company of Pelican Brewing Company, will construct 12 homes. They will pre-lease six of those to their local employees, over half of whom currently commute from outside of Tillamook County.
In Lincoln County, new income-qualified homebuyers will have opportunities to purchase a home with subsidies to help lower the purchase price. Lincoln County, Newport, and Lincoln City will invest matching funds as well as partner with the local school district and other employers.
I could not be more pleased to see two of the five initiatives right here in our district recognizing the unique housing challenges we face in our coastal communities. These pilot projects will provide critically-needed affordable, safe, and stable homes. I look forward to exploring ways in which we can scale up these programs to increase both housing availability and economic development on the coast.
Highway 34 Scenic Byway
Look for a new focus on travel from the valley to Waldport. The Marys Peak to Pacific Scenic Byway will begin at I-5 in Linn County linking Tangent, Corvallis, Philomath, and Alsea in Benton County, and Tidewater and Waldport in Lincoln County, with spurs branching out to Marys Peak and Alsea Falls.
This corridor will serve to enhance and protect intrinsic natural qualities, honor rural lifestyles and industries, and create new economic opportunity for adjacent communities along the Byway. Scenic Byway designation will also add exposure to the area through regional and statewide marketing efforts, offering new and repeat visitors ideas on how to patronize local businesses, access lodging, and find many of the local natural attractions.
You can look forward to the rollout of this scenic alternative over the next few months. More information can be found here.
Newport Fishing Fleet
I recently sat down with representatives of the fishing industry in Newport and then visited several of the vessels docked at the International Terminal. I've also been meeting regularly with the leadership and staff of the Port of Newport.
As we look for new opportunities at the Port, we should also to remember to protect existing industries and jobs.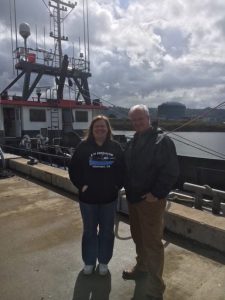 Visiting the Fishing Fleet with Heather Mann
Opportunity Zones
Eighty-six Opportunity Zones have been designated across Oregon to apply new Federal tax incentives for job creation and investment. Lincoln County was on the original list and I was successful in convincing the Governor to add a section in Yamhill County that includes Sheridan and Grand Ronde.
BOLI Workshops
Earlier in May, the Bureau of Labor and Industries together with our Small Business Development Center presented workshops in Lincoln City and Newport for local businesses. I attended both meetings, interested to hear the questions asked and the concerns expressed. Topics included sick leave rules, tip pooling, and scheduling.
Of particular interest were rules regarding new requirements for janitorial services. The legislature recently enacted statutes to address problems with large custodial firms. I worked to make sure local businesses working in the Vacation Rental industry were exempted.
Parade Season Kicks-Off
I just walked my first parade of 2018! Each summer, District 10 enjoys a dozen local parades. Newport is long; Waldport is short. Cloverdale is downhill and Toledo is uphill. Sheridan is a bit of both! And Gleneden Beach runs in a big circle. I keep trying to get back to the start before the last float leaves, so I can go twice!
I do as many parades as I can and enjoy walking, saying hello, shaking hands and kissing babies. Sometimes I have a vehicle that I have to keep up with. Other times I just walk the sidelines. The pace is always frenzied but also great fun. Please shout hello if you see me from the sidewalk!
In closing, I'd like to remind you that I stay fully committed to keeping you informed and representing you well in Salem and beyond. If there is anything that I can assist you with, please don't hesitate to reach out. Until then, my best wishes for the beautiful coastal summer just ahead.
David Gomberg, State Representative, Oregon House District 10
email: Rep.DavidGomberg@oregonlegislature.gov
phone: 503-986-1410
address: 900 Court St NE, H-371, Salem, OR, 97301
website: http://www.oregonlegislature.gov/gomberg