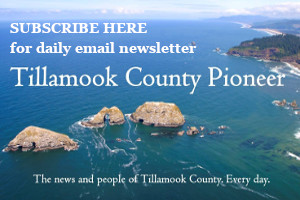 PACIFIC CITY, Ore. — Oregon Parks and Recreation Department (OPRD) will host a public meeting to share results of a hydrology study for Sitka Sedge State Natural Area and Tierra del Mar. The meeting is scheduled from 2 – 3:30 p.m. Feb. 27 at the Kiawanda Community Center, 34600 Cape Kiwanda Dr., Pacific City.
The study, conducted by consultants Pacific Groundwater Group (PGG) and Environmental Science Associates (ESA), analyzes options for improving fish passage and dealing with a failing tide gate that's part of a human-made dike on the property. The study takes into account state and federal fish passage requirements, as well as flood risks and groundwater effects of different dike and tide gate modification options.
The consultants created models that predict and compare groundwater levels according to different dike configuration scenarios during both average weather conditions and extreme storms. A summary of the study's initial findings is at oregon.gov/oprd/NATRES/Pages/SitkaSedgeHydrology.aspx.
In the 1930s, a ½-mile dike with two tide gates was constructed to block tidewater and drain the area behind the dike. This also had the effect of preventing native fish — including coho, chum, steelhead and coastal cutthroat trout — from migrating upstream to historic spawning and rearing areas. The original tide gates failed at least 50 years ago and were replaced with the current tide gate. In the past 30 years, the current tide gate has deteriorated and now leaks, allowing some tidewater through and contributing to high water in the marsh during rainstorms.
Sitka Sedge State Natural Area is a 357-acre state park in Tillamook County. The park includes ocean beach, dunes, forest, tidal marsh, freshwater marsh, shrublands and mudflats that together support an array of important and rare plants, wildlife and fish. OPRD is committed to managing the park in a way that balances natural resource health and visitor recreation, now and for decades to come.
OPRD purchased the area in 2014 using voter-dedicated Oregon Lottery funds and a grant from the U.S. Fish and Wildlife Service. "State Natural Area" is a designation for protecting outstanding or important portions of Oregon's ecosystems. For more information about Sitka Sedge State Natural Area, visit oregonstateparks.org.