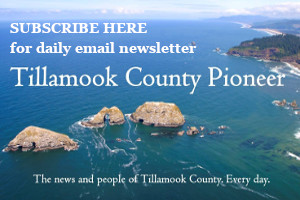 On December 3rd, Tillamook Estuaries Partnership and the Southern Flow Corridor Project Outreach team will welcome Chris Janousek, Assistant Professor at Oregon State University, for an online presentation on the current monitoring results at the Southern Flow Corridor Project. The presentation will be held online from 6:30 – 7:30 pm.
The Southern Flow Corridor Landowner Preferred Alternative (SFC) project was implemented in southern Tillamook Bay in 2016 to reduce urban flooding in the region and improve estuary habitat. By removing historic levees and tidegates, constructing new levees further away from the estuary, and reconnecting tidal channels the project effectively brought back the natural tidal flooding cycle. Through the work of more than 100 federal, state, and local partners the 690 acres project permanently protected 504 acres through a conservation easement and restored 443 acres of tidal wetland habitats.
To document the results of the effort, a team of researchers monitored the project before and after construction to assess changes in soils, hydrology, vegetation, fish communities and other parameters and compare SFC to reference tidal wetlands. In his presentation "Early development of soils, vegetation, and fish assemblages in a restored Tillamook Bay tidal wetland", Chris Janousek, PhD, will discuss the current results of the extensive monitoring effort. Among the many findings were increases in soil pH and salinity, changes in vegetation including die-back of non-native species, and an increase in Chinook and chum salmon catches within the restoration site.
Janousek is an Assistant Professor at Oregon State University and has been one of the lead researchers monitoring the Southern Flow Corridor project. His research interests include tidal wetland plant and algal ecology, wetland hydrology, restoration, and coastal blue carbon. Janousek received his Bachelor of Arts from UC Santa Cruz, PhD from UC San Diego and completed his post-doc at UC Davis. When not working, Janousek enjoys backpacking, tidepooling, and film and digital photography.
This presentation is sponsored by Tillamook Estuaries Partnership and the Southern Flow Corridor Project Outreach Team. The Outreach Team is working to communicate the results of the SFC project and keep the public informed. The community can look forward to more articles, presentations, and more into the future as monitoring continues.
Join us for this online presentation December 3rd from 6:30 to 7:30 pm; registration is available through Eventbrite at https://monitoringsfc.eventbrite.com.