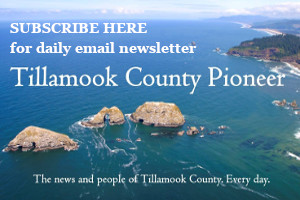 FOREST GROVE, Ore. – Steep terrain where the Game Hog Creek Fire is burning in the Tillamook State Forest has made it difficult for firefighters to deepen their control lines encircling the fire. Yesterday the fire pushed through those lines to burn three more acres.
A helicopter has been helping with air drops of water onto the fire. It will be joined by another helicopter today, with an additional helicopter also expected on Saturday. The water they drop will help cool hot spots so that embers in the interior of the fire have less chance of being blown across control lines.
About 80 ground crew remain engaged on the wildfire, which is entirely within the state forest in timber and slash. Their goal today is to extend control lines down to Elk Creek.
Cooler air from the ocean has moved over the fire today, which should aid firefighters.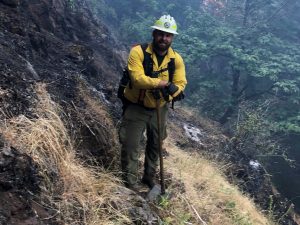 The Tillamook State Forest remains open to visitors with the exception of Drift Creek and Idiot Creek forest roads and the Fear and Loaming mountain bike trail. These are closed due to fire activity in the area. Rogers Camp trailhead is being used as a staging area for firefighters and is also closed to the public. Highway 6 and 26 to the coast remain open and unaffected by the fire. No evacuations are associated with this fire.
Cause of the fire is still under investigation.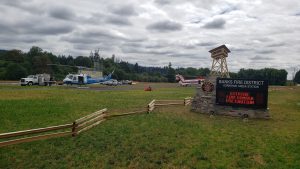 From Scott Adams – Banks Fire Public Information Officer (PIO): Banks Fire District 13's Hornshuh Creek Station (on Hwy. 26) will be the home for additional, larger helicopter operations starting this morning July 16th. Don't be alarmed if you see some big aircraft in the area.
As the Hog Creek Fire continues to burn in areas that are very difficult for line firefighters to reach, they are calling for more resources. Starting this morning we will have multiple helicopters, including a much larger "Type 1" helicopter working out of our Hornshuh Creek Station along side the "Type 2" helicopter that has been based here.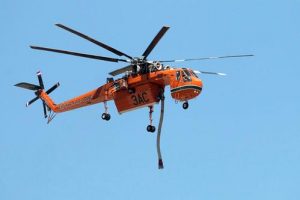 According to Forest Service ratings a "Type 2" can carry up to (approx.) 400 gallons and have a take off weight below (approx.) 12,000lbs. A "Type 1" can carry between (approx.) 700 and 2500 gallons of water and have a take off weight over (approx.) 12,000lbs. (Numbers vary by contract and air frames.) We don't know yet what specific aircraft will arrive, but here are some pictures of some "Type 1" craft for examples of what you might see.
Before our new Hornshuh Creek Station we would have been unable to host these aircraft and they would have had to find a home base location, possibly further from this fire. Because of the space now occupied and owned by the District we are able to provide a safe, wide-open space for these aircraft. Their crews are also utilizing features in the new station designed for just this type of multi-agency emergency use.
The aircraft crews are working with us and our pre-planned approach/departure routes to, wherever possible, minimize the noise or other affects they might have to the community. The safety of all involved is our (and their) number 1 priority. We thank you for your understanding.