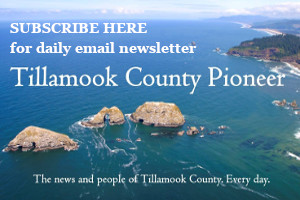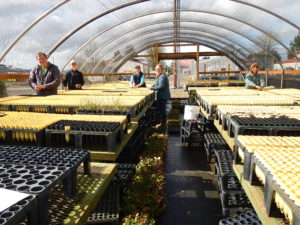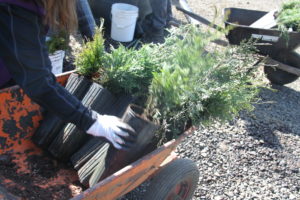 Two Tillamook-based conservation groups have joined forces to put on a special Native Plant Potting and Planting Party on Saturday, April 22nd. Tillamook Estuaries Partnership (TEP) and the Tillamook Bay Watershed Council (TBWC) will host the event, which will be held from 9 am to 3 pm at the Native Plant Nursery, adjoining Camp Tillamook at 6820 Barracks Circle in the Port of Tillamook Bay complex. This is a rare chance for the public to directly participate in watershed restoration activities, including the handling and potting of native plants that will be raised for habitat enhancement projects around Tillamook County. And in addition to potting, volunteers will get the chance to plant native trees and shrubs in designated areas along Mill Creek, the site of the TBWC's 2016 habitat restoration project. Thousands of plants will be potted, and over 400 trees will be planted along Mill Creek. Pizza will be provided at lunch for the volunteers.
Maysa Miller, manager of TEP's Native Plant Nursery, will coordinate potting activities, while Rob Russell of the TBWC will lead the planting activities. "It's a great feeling caring for these plants and knowing they will be appreciated by future generations," said Miller. "That way, when people drive around Tillamook and notice trees growing along their favorite rivers and streams, they can take pride knowing they contributed." "We're excited to get people directly involved in the work we do to improve the Tillamook Bay watershed," added Russell. "Everybody has heard about the habitat restoration work that has been going on in Tillamook for the last 19 years, but it means a lot more to get involved and get your hands dirty."
The TEP and TBWC are local not-for-profit organizations building collaborative, voluntary partnerships with landowners in our community. Both organizations are charged with protecting, maintaining and improving the health of the Tillamook watershed through on-the-ground restoration projects, educational outreach programs, and other community-engagement activities.
Register on Eventbrite at https://www.eventbrite.com/e/potting-party-days-tickets-32700771889 or for more information contact Robert Russell, Tillamook Bay Watershed Council: 503-322-0002