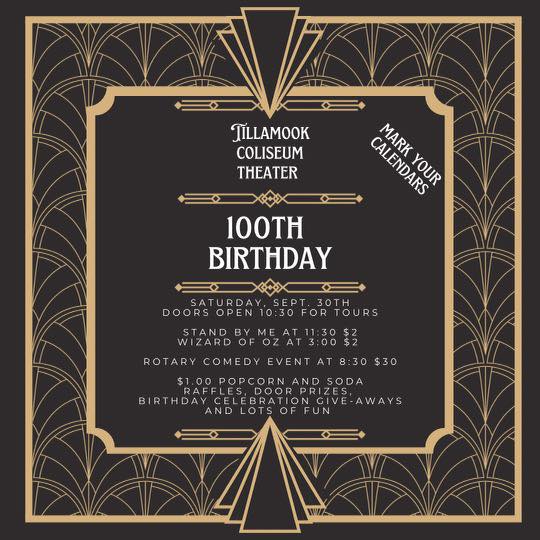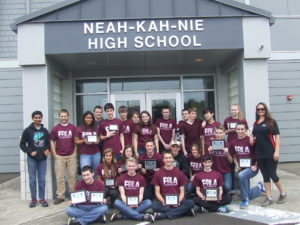 By Laura Swanson, editor@tillamookcountypioneer.net
One of the smallest school/teams at the statewide Future Business Leaders of American (FBLA), Neah-Kah-Nie High school had 26 students place in the top 10 in their events; and 14 students are in the top 4, qualifying them to compete at the National level the end of June in Anaheim, California.  "This is the most students we have ever had in the top 10, and to qualify for state," said FBLA Advisor Stevie Jackson. "We are so excited!"
Taking first place in computer game and simulation programming were Hunter Cram, Nick Burns and Asa Parker with their video game "Mountain Quest".  Here is a link to a YouTube video of the game — https://youtu.be/VXlkrtRxmi8.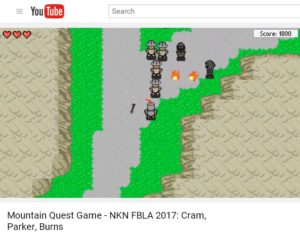 The team put in 251 hours developing all aspects of the game including the graphics, music and programming. 
Wade Becker also displayed a first place plaque for networking concepts.  He took a written test prior to the conference April 8th in Portland. SeOnna Moreland added a first place plaque in Marketing as well.  The NKN FBLA has dominated the marketing category for the last several years with teams placing in the top 4 and competing at Nationals.  This year, NKN marketing teams scored a second place by Sam Holm and Nula Reid and third place – SeOnna Moreland and Dylan Mitchell.   For the marketing team event, the teams are all presented with a marketing scenario.  In this case, it was customizable athletic shoes.  Each team has 20 minutes to prepare a seven minute presentation about their ideas for marketing the athletic shoes.  Ryan Dillard brought home a second place in cyber security.  Also heading to state with a fourth place in Hospitality Management is the team of Gabe Calkins, Lacoya Reny-Hamer and Juliet Charles.  Similar to the marketing team competition, in hospitality management the teams are given a case study and 20 minutes to come up with their ideas and presentation.  Other individual winners, qualifying for nationals were Nula Reid with fourth place in advertising and Samantha Noregaard with fourth place in health care administration.
For the individual events, the students take an online test and for the team competitions initial testing determine top 15 that compete at state.  The top four in each event qualify to compete at Nationals, being held this year in Anaheim, California from June 27 through July 3rd.  Many of the schools at state have student populations of 2,000+.  "For a school of Neah-Kah-Nie's size to have 14 students qualify for nationals and 26 students in the Top 10 is an amazing achievement," noted Jackson.
FBLA is a student-led, school-based business leadership organization facilitated by teachers (advisers) in partnership with industry, parents, and the community.  The mission of FBLA is to bring business and education together in a positive working relationship through innovative leadership and career development programs.  FBLA is the premier organization for student leaders preparing for careers in business, management, entrepreneurship, and technology.   NKN has a proud tradition of participation in FBLA events dating back over 30 years, and through the decades sending one or two students to the National competition. In the last 10 years, this is the most students that have placed in the top 10, and the most that have qualified for nationals which comes with a price tag.  The NKN FBLA members will need to raise nearly $30,000 in the next eight weeks. All the students are eager to attend Nationals, and continue their business success. "Let the fundraising begin," said Jackson.  "We hope that our always supportive community will help us to raise the funds to send these students to Anaheim to represent our school."  For more information about FBLA or to donate to FBLA's "On to Anaheim" nationals, please contact Stevie Jackson at 503-355-2272 or steviej@nknsd.org.