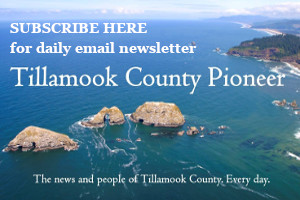 By David Dillon, Public Information Officer, Emergency Volunteer Corps of Nehalem Bay
Over 350 people attended the Saturday's Preparedness Fair at the Nehalem Bay Fire & Rescue's Station #13. That's double the attendance at our last fair in 2013. Most importantly, a large percentage of them were new to preparedness. This is what we were hoping for – getting more people engaged in personal, family and community preparedness. They came from Portland, Gearhart, Garibaldi, Astoria, Seaside, Nedonna Beach, and Tillamook, in addition to the Nehalem Bay area.
One hundred fifty took the overview classes at the fair to learn about the more-extensive Water, Sanitation and Hygiene (WaSH), Yellow Radio, and Go Bag training we offer.
Sixty-nine people expressed interest in training to join the Community Emergency Response Team (CERT). We sold 47 Yellow Radios that help neighbors communicate with each other in emergencies.
The fair also generated record hits on our website – evcnb.org – a great resource for information on how to deal with the variety of emergency situations – large and small – that can occur in our county almost any year.
All in all, it was a very successful event for all involved.