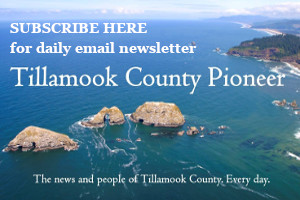 Photos & Video by Laura Swanson
Nehalem Bay Fire & Rescue's ranks expanded by seven with the official graduation of the latest volunteer recruits.  About 50 people gathered at NBFR Station 13 for a ceremonial "pinning." After completing the required training,  on Wednesday July 26th, members of NBFR, friends and family members gathered as Chief Frank Knight and Training Officer Division Chief Jesse Walsh presented the recruit class of 2023 with their badges, certificates of completion and "challenge" coins.
What did it take for these dedicated individuals to achieve this certification, as volunteers, while working full time, and with family commitments?
FF1 Academy- 12+ week academy 2 and 3 nights a week. Over 1000 pages of reading, quizzes, and tests. Over 100 hours of hands on skills.
Wildland FFT2- 32 hours of online training and bookwork followed by 8 hours of hands on training.
HAZMAT Operations- 340 pages of reading , quizzes, and tests. 8 hours of hands on skills.
Incident Command System- 13 hours
Year to date these recruits have completed a combined 818 hours of training and have responded to an accumulated 522 incidents.
Congratulations to the largest graduating class in our District history~