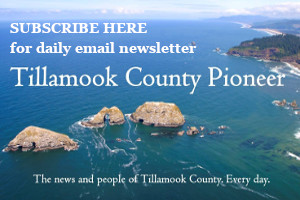 By April Bailey
The Nestucca Valley Community Alliance is planning to open their parking lot on June 24, 2017 for peak season use. This parking lot is part of Phase 1 of the NVCA's Pacific City Community Park, and it is the hope of NVCA that it will aid in the funding of the remaining 6 phases of this park. Located just south of Doryland Pizza on the Tillamook Lightwave property, they hope it will help alleviate the need for overflow parking for visitors wishing to access Cape Kiwanda State Natural Area and immediate surrounding businesses.
The parking lot is a graveled 60 space lot. The park will be managed by a gate at the entrance by NVCA or other local non-profits. NVCA will also be giving organizations that host events in the area an opportunity to participate in management of the parking lot. The charge for parking will be by donation only at the site. NVCA will share the donations with volunteer groups who manage the parking lot at 60/40% rate in the volunteer organization's favor. The suggested donation for parking is $10.
NVCA was able to complete this phase of the parking lot through a TLT grant of $97,800. An additional $10,000 grant from Tillamook P.U.D. will pay for space markings, information, safety signs, a process to collect parking fees, and the installation of radio controlled sliding gate, according to NVCA's website, nestucca.org. The gate has yet to be installed with the radio control option, but will also be accessible by emergency workers, as needed.
Paul Colson, NVCA Board President said, "The NVCA is very excited to start utilizing the park space in this way. We are still in the beginning phase of this project, but it's ready for parking so we are happy it can start to benefit the local community."
NVCA is currently working on grants to obtain funds to complete pavement for Phase 1 of their project. The total projected cost to complete the Pacific City Community Park is $2 million dollars. The NVCA master plan includes a playground, several ball courts, amphitheater, historical/cultural wall, skate park, and much more. For more information about current meetings, fundraisers, and a Tour of the Park Presentation, visit nestucca.org.