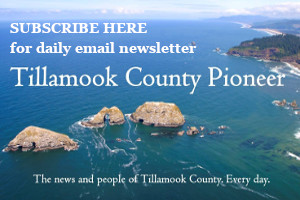 Pacific City, OR – Nestucca Valley Community Alliance (NVCA) is hosting a fun-filled open house event June 9, 2018 from noon-4pm at the Community Park near Cape Kiwanda.
This event is designed to showcase the potential of the Community Park and will feature "Touch-a-Truck" fun which lets the kids climb, explore and enjoy interesting community vehicles including a police cruiser, heavy equipment rigs, a dory boat and much more.
There will also be a free family style picnic BBQ with hot dogs (donated courtesy of Ben & Jeff's), Tillamook ice cream, and a caramel corn food truck. Visitors will be entered in a chance to win one of 2 raffle door prizes (prizes for kids and adults).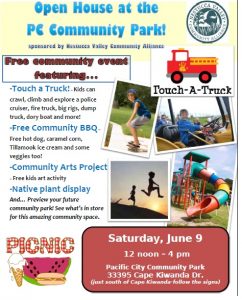 Community Arts Project will also host a creative, fun kids art activity.
"This is a great opportunity to share this amazing property and to let the community see the possibilities of the park" says NVCA board president Marie Heimburg. "We really hope that people will come see the progress we've made and begin to see the larger vision. We've done so much already but there is still a lot to accomplish. Also, there's free lunch and it will be a lot of fun!"
The open house will also display how the park will be designed and future locations of the playground, Amphitheatre, picnic area and other features.
Community organizations are encouraged to contact the NVCA at nvcainfo@gmail.com if they would like to host a booth at the open house to share their organizational information. Also, please contact the NVCA if you have any interesting vehicles to add to our celebration.
NVCA has been working hard on the development of the community park. The non-profit has recently been awarded a $15,000 Tillamook County TLT Tourism-Related Facilities Grant to purchase picnic tables, park benches and other amenities. NVCA is currently working to secure larger grants for the children's playground and the park infrastructure.
NVCA is in the process of completing Phase 1 of a multi-phase plan for a community park. When completed, the park will provide a place for community events, family gatherings, educational opportunities and a center of activity for all ages. Community volunteers and donations are essential to the success of this project.
The mission of the NVCA is to bring education opportunities and recreation venues to the community. Visit the NVCA website at www.nestucca.org where you can donate and volunteer. Watch the Facebook page for more information and to keep up-to-date on future events.
If you would like more information about NVCA or the park, please contact Nicole Twigg NVCA Board Secretary at 503-816-9516 or email at nvcainfo@gmail.com.