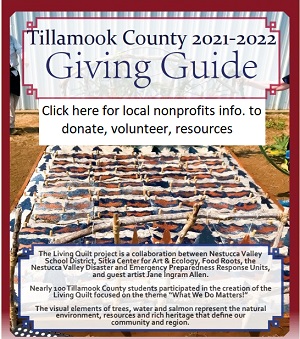 TILLAMOOK, Oregon — The North Coast Tourism Management Network held a virtual gathering to discuss sustainable tourism strategies on Thursday, Jan. 13. Attendees heard a presentation by Serena Bishop Gordon, Sustainability Manager for Visit Bend.
"If you aren't part of the solution; if you aren't in the arena trying to change the rules of the game, nothing is going to change," Bishop Gordon says. "So many people in the state of Oregon who work in tourism and in this industry are doing just that. That [involvement] is how we are going to make collective change to create more sustainable destinations and sustainable travel."
January's Network meeting was joined by 25 community leaders representing tourism, small business, transportation, conservation, nonprofit, and local government sectors, who engaged in robust discussion of how tourism can contribute to the sustainability of the North Coast.
The Network pursues sustainability in tourism through initiatives like our stewardship messaging and public restrooms toolkits, as well as ongoing action teams who encourage positive stewardship behavior, promote car-free transportation options, champion the value of tourism for coastal communities and businesses, and enhance outdoor recreation opportunities.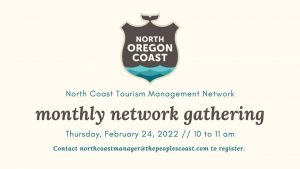 If you're tired of being on the sidelines and would like to be part of pursuing sustainable tourism solutions for the North Coast, we invite you to join us for the network's next public gathering on Thursday, February 24 at 10 a.m. These monthly gatherings offer a forum for interested community members to hear from partners with a wide range of expertise, both from within and outside our region. Topic and speaker, as well as a decision about meeting virtually or in a hybrid format, will be announced soon.
The January presentation is available online here recording
North Coast Tourism Management Network
The North Coast Tourism Management Network seeks to enhance healthy, collaborative, sustainable relationships between coastal visitors, residents, businesses, and the environment. The Network communicates the value of tourism for our communities while striving to minimize negative impacts of visitation and help guests become excellent stewards of the North Oregon Coast.
The network was formed in 2019 following the North Coast Destination Management Studio program developed and offered by Travel Oregon. NCTMN is a formalized network funded by grants and contributions from partner organizations and housed within a nonprofit 501(c)(6) sponsor, the Oregon Coast Visitors Association.