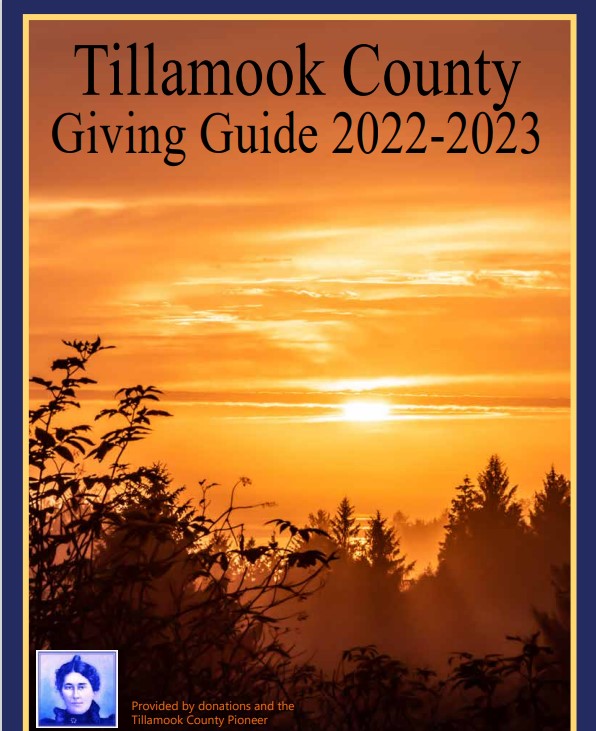 Tillamook County is less than 500 people away from reaching 65% vaccination rate to stay at lower risk, at 62.8% vaccinated as of Monday June 7th.  Case counts continue to be low as well.  There are several vaccine clinic options available this week – get your vaccine and enjoy an ice cream at Tillamook Creamery tomorrow, June 9th at the Red Barn from 10 am to 6 pm.
Many people in Oregon are looking forward to a time when they can return to doing the things they love. Vaccination in Oregon is the safest and most effective path to reopening our state. As of today, 1,939,623 people in Oregon have completed a #COVID19 vaccine series. There are 2,286,813 who have had at least one dose.
The number of adult Oregonians needing vaccinations to reach the 70% threshold is 106,671.
COVID-19 can affect anyone
With school ending and the summer upon us, we know many kids and teens are understandably eager to hang out with friends and make full use of the good weather. While we know many of you recognize the serious impact COVID-19 has had on older folks, the truth is that COVID-19 can have serious effects on anyone.
Since April 3, nationwide data from the Centers for Disease Control and Prevention (CDC) have shown that people ages 18 to 49 have made up a greater proportion of COVID-19 associated hospitalizations than people ages 65 and older.
Those with underlying conditions are even more vulnerable. In fact, for the week ending on May 22, people ages 18 to 49 made up 38.5% of all COVID-19 associated hospitalizations across the country. People ages 65 and older only made up 32.2%.
Vaccination is the safest and most effective way for all of us to get back to doing the things we love. If you are at least 12 years of age, you are eligible to get vaccinated in Oregon.
To find a vaccine provider who offers the Pfizer-BioNTech vaccine — which is authorized for use in anyone who is 12 and older — select the vaccine type on the Get Vaccinated Oregon tool or use the Centers for Disease Control's (CDC) Vaccines.gov.
You can read more about this in OHA's Oregon Vaccine News blog.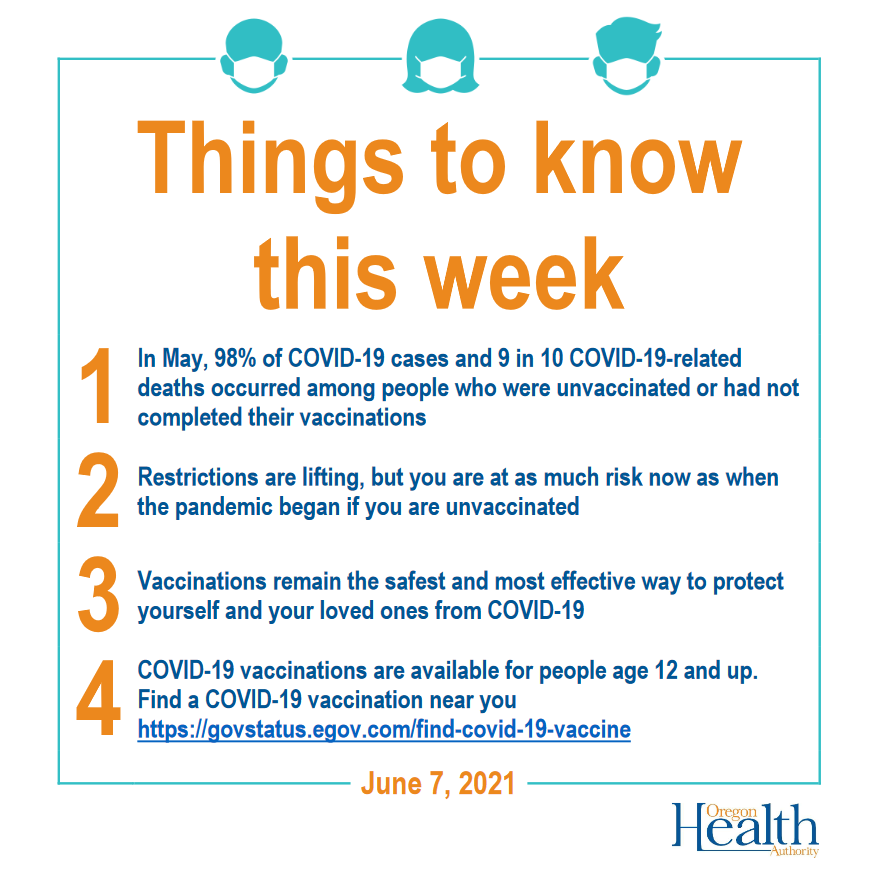 Enjoy fresh foods while taking care to prevent food poisoning on World Food Safety Day
Summer is such a great time to enjoy freshly grown food and outdoor cooking! We encourage you to enjoy the season while taking care to help prevent food poisoning on this World Food Safety Day.
Here's a Food Safety Tip: Clean, Separate, Cook, Chill. Four simple steps that can help protect you and your loved ones from getting sick from food.
OHA issues revised quarantine guidance
New guidance released by the Oregon Health Authority (OHA) allows Local Public Health Authorities to consider a shortened quarantine period for a person with COVID-19.
OHA is now recommending a 10-day quarantine or a seven-day quarantine with a negative COVID-19 test as acceptable. The shortened quarantine option is not recommended in high-risk settings such as long-term care facilities and other residential care settings.
However, in all cases, a 14-day quarantine is the safest option to prevent the spread of COVID-19 to others. Revised guidance for this new recommendation is being finalized.
People who have been fully vaccinated are not required to quarantine even after exposure to a person with COVID-19. A person is considered fully vaccinated if it has been two weeks or longer since they received the final dose of their vaccine series. People who are fully vaccinated are still encouraged to isolate and seek testing if they develop symptoms of COVID-19.