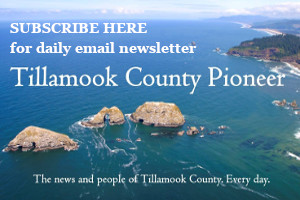 Book answers the number one request at visitor centers, "Where is a good place to hike?"

Tillamook, Oregon. September 7, 2017 –  Visit Tillamook Coast, the county's tourism marketing organization, announced today a new self-published guidebook on hiking, the first of several planned guidebooks. 25 Hikes on Oregon's Tillamook Coast, written by Adam Sawyer, is a pocket-sized, easy-to-read guide that provides locals and visitors with hiking recommendations throughout Tillamook County.
The 90-page book is sold for $9.99 at www.tillamookcoast.com/books, and will soon be available at visitor centers throughout the county.
"Volunteers at the visitor centers said the most requested information is where to go hiking, yet there wasn't a single guide that focused on hikes in Tillamook County" said Nan Devlin, Tourism Director for Visit Tillamook Coast. "We decided to self-publish a guidebook to meet the need."
Author Adam Sawyer has written three hiking guidebooks published by Falcon Guides, including Hiking Waterfalls in Oregon and Best Outdoor Adventures Near Portland. Sawyer also writes articles for regional and national magazines, and authors hiking and outdoor adventure blogs for the Visit Tillamook Coast website. He will be presenting the book Saturday, October 21 at 10:30 am at South Tillamook County Library in Pacific City, and at 2pm at the North Tillamook Library in Manzanita.
There are plans to publish additional guidebooks focused on Tillamook County. The next book, tentatively slated for publishing in spring 2018, is 25 Family Adventures on the Tillamook Coast.
"Creating branded visitor information guides is a major promotions strategy for tourism organizations," said Devlin. "Along with our website, the guidebooks can dive deeper into the travel experiences recommended in our annual visitor guide. And the guidebooks don't require an internet or wifi connection – they fit in your pocket."
Visit Tillamook Coast was recently awarded Outstanding Oregon Visitor Guide by the Oregon Tourism Commission (dba Travel Oregon) at the recent 2017 Governor's Conference on Tourism in Salem. The annual awards recognize people and organizations across the state that go the extra mile to enhance the travel and tourism industry in Oregon.
###
About Visit Tillamook Coast
Oregon's Tillamook Coast is one of the state's natural wonders. Picturesque bays, inland waterways, forests, farmlands, rivers and ocean beaches offer visitors a wide range of nature-based activities from kayaking, fishing and surfing to beachcombing and hiking. Fresh seafood is abundant, as is world-famous cheese and award-winning beer. The Tillamook Coast's villages, from Manzanita to Neskowin, each have their own unique heritage, personality and charm. For more information and to plan your getaway, visit www.tillamookcoast.com